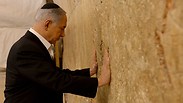 בנימין נתניהו סיור מנהרות ה כותל מערבי ירושלים נאום קונגרס איום איראני
Photo: GPO
Prime Minister Benjamin Netanyahu departed for the United States on Sunday, for what he termed an "historic" mission that will include a controversial address to Congress that will criticize the current agreement being drafted on Iran's nuclear program.
"I'm going on a crucial and historic mission," Netanyahu said before his departure from Ben-Gurtion Airport, accompanied by his wife.
"I feel I am the representative of all Israel, even those who disagree with me. I feel a deep concern for the fate of Israel. I will do everything to guarantee our future."
Netanyahu's speech to Congress has sparked outrage both in Israel and the US, where critics have accused him of using the speech to bolster his own political chances in the March 17 Knesset elections. The speech also caused controversy over the fact that the White House was apparently deliberately kept in the dark about the invitation to the prime minister, issued by Republican Speaker of the House John Boehner.
Related articles:
Zionist Union leaders Isaac Herzog and Tzipi Livni on Sunday accused Netanyahu of sacrificing the US-Israel relationship for the sake of a handful of voters in the upcoming election.
The speech will have a five-minute delay in transmission in Israel, to allow any comments perceived by the Central Elections Committee as electioneering to be cut out.
Meanwhile, a Likud lawmaker expressed the hope Sunday that the speech would have a positive impact for the party in the elections.
"If the speech manages to define the diplomatic and defense agenda," he said, "it will bring us seats and improve the Likud's status. It all now depends on the Likud and whether Netanyahu will rise to the occasion or not. We hope that the speech will bring us seats."
Prominent members of the US Jewish community have urged Netanyahu to delay the speech until after the elections, but the prime minister declared Saturday that he would not be deterred from delivering the address.
Dozens of Democratic politicians will be missing when Netanyahu speaks in Congress on Tuesday, among them Vice President Joe Biden, whose absence behind the prime minister as he speaks will be most conspicuous.
Other lawmakers who will skip the address include Senators Bernie Sanders, Patrick Leahy and Tim Kaine, and Representatives Barbara Lee, Mark Pocan and Jan Schakowsky.