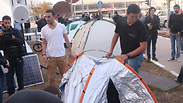 Rothschild Boulevard, Sunday
Photo: Motti Kimchi
Protests tents return to Rothschild Blvd in wake of housing crisis report
Over 200 people arrive at Tel Aviv's iconic avenue for event titled 'I'm 40 and I don't have an apartment', initiated by Shai Cohen, father of two from Givatayim; 'What Israelis really care about is a roof over their heads and income'.
Protest tents reappeared on Tel Aviv's famous Rothschild Boulevard on Sunday after more than three and a half years passed since the Israeli 'tent protest' which took place in the summer of 2011. Set up by several dozen people who were then joined by over 200 more, the activists protested the escalating housing crisis.

The motive behind the event, titled 'I'm 40 and I don't have an apartment', is to refocus public attention and debate surrounding what is a pressing issue for a growing number of Israelis who say they cannot afford to buy or rent a home.

The protest was initiated by Shai Cohen ,a father of two from Givatayim, who made headlines after posting a status on Facebook about his financial inability to purchase an apartment in the central Israel, despite the fact that he and his wife work full-time.

Speaking to Ynet ahead of the event, Cohen said: "I predict that good people will come and that we will see many new friends there. I think we already rekindled the public debate a litte. Instead of the election campaigns, which appears to be plagued by political spins, dirt and enriched uranium, we are returning to what really interests the citizens of Israel: a roof top over their heads and income."

Cohen said, adding that while it was his personal story that recently became a focus of public attention, "there are many different aspects to the problem, including the terrible conditions endured by those eligible for public housing or apartment tenants. This is the story of every Israeli."

Labor MK Itzik Shmuli, who was also one of the leaders of the summer 2011 social justice protests, was also present at the event, and said: "Netanyahu is sending young people to live inside the Iranian bomb, and apart from his failing policies, what is particularly outrageous is his disregard of the problem. The fact that the Likud has been avoiding presenting its platform on housing shows more than anything else that no one there has any real intentions of solving the issue. The comptroller's report unequivocally determined that the Netanyahu government failed in its handling of the housing crisis."

The report by State Comptroller Yosef Shapira, released last Tuesday, outlined the causes of the current housing crisis. Shapira found that housing prices soared and the office of Prime Minister Benjamin Netanyahu did little to address the problem.

Poor government planning and disregard for the middle class played key roles in creating the current severe housing crisis in Israel, which could have a devastating impact on the entire economy, he said. Shapira found a shortage of tens of thousands of apartments, while moves to combat the skyrocketing cost of renting and purchasing a home in Israel remained mostly on paper.

The 294-page indictment of government policy warns that the middle class could actually collapse, which would have a knock-on effect on the country's economy as a whole.

It paints a picture of long-term inefficiency leading to the sharp rise in housing prices that began in 2008, at the tail end of Ehud Olmert's term as prime minister, and continued all the way into 2014, Netanyahu's sixth consecutive year in office.

"The proportion of expenditure on rent for those in the middle deciles rose from 21% in 2008 to 26% in 2012 (an increase of 24% in housing prices), and this rate is approaching a threshold of 30%," the report states. "This raises concerns that if this trend of rising house prices continues, and the upward trend in wages is relatively more moderate, more sectors of the population will be exposed to financial risk that could impair their ability to meet these expenses."