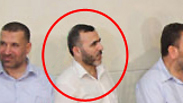 The leader of Hamas' military wing, the Izz ad-Din al-Qassam Brigades, made a rare appearance Sunday evening in Gaza – the first in years – and said the group is preparing for a new conflict with Israel.

Marwan Issa, who replaced Ahmed Jabari as the group's military leader after he was killed in a targeted Israeli attack in 2012, said that Hamas "is continuing to produce rockets, but is not currently striving for a conflict with Israel, but (preparing) for a future" one.

Issa, who has served as top commander for Hamas' military wing in the past three years, made the rare appearance as part of a conference organized by a think tank linked to Hamas' security apparatus. Unlike his predecessor, Issa has kept a low profile and has rarely been photographed, as was the case in the current conference.



Issa addressed a recent ruling by an Egyptian court, that blacklisted the military wing and then Hamas itself as a terror group.

"Any regional or international attempt to blockade Hamas or its military wing will fail. The military wing has the ambition, the ability and the faith needed to reach our end goals," Issa said.

He also addressed the group's ongoing struggle with Israel and sent it a message: "We are not currently striving for a conflict, but we are continuing to act so that we will be strong in a any future conflict," he said.

"We are continuing to produce rockets and Israel's statements in this regard are pointless as far as we are concerned," his comments came amid ongoing attempts by Hamas to train by firing rockets into the sea, an almost daily occurrence.

He also said that Hamas is working to forge regional alliances that will allow it to procure additional arms, though he said the terror group would not sell itself out to any one player.

"We are working to increase cooperation with all resistance factions," Issa explained, failing to deliver the names of those potential partners, though it is safe to assume its main target is Iran and Hezbollah, who have long supported them, though the relations fell out after Hamas refused to continue to support Iran's ally Bashar Assad in Syria.
Growing isolation
Gaza residents said Sunday they fear growing isolation and more hardships after an Egyptian court declared the territory's ruling Hamas a terrorist organization. Some blamed the Islamic militant Hamas while others said Egypt is being unreasonable.

Hamas called for protests against the Egyptian government and issued angry statements, but did not offer a way out of the crisis. Salah Bardaweel, a Hamas spokesman, alleged Sunday that Egypt has become a "direct agent" of Israeli interests.

Saturday's court ruling signaled Egypt's growing hostility toward Hamas, an offshoot of the region-wide Muslim Brotherhood. Egypt has blamed Hamas for violence in the country's restive Sinai Peninsula, a charge Hamas denies.

Hamas seized Gaza by force in 2007, and the territory's borders have been largely sealed by Israel and Egypt since then. Egypt intensified the blockade after its military toppled a Hamas-friendly government in Cairo in 2013.

In recent months, Egyptian soldiers have destroyed virtually all smuggling tunnels under the Gaza-Egypt border. In October, they began razing parts of the Egyptian town of Rafah on the border with Gaza. Residents near the border said homes are still being dynamited or bulldozed at a steady pace, with the latest explosion heard Sunday afternoon.