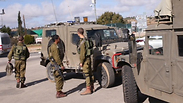 IDF soldiers (Archive)
Photo: Motti Kimchi
Two IDF soldiers are absent without leave after they and another soldier skipped their base next to the Gaza border at the weekend, having been caught drinking vodka while on guard duty. The three soldiers, all from the Nahal Briugade, fled after they were caught by their platoon commander, So far, only one of them has returned.
The troops' battalion is entrusted with ongoing defense along the southern Gaza Strip border and with protecting the towns adjacent to the fence, including Sufa, which is close to the location from which terrorists emerged from a tunnel at the beginning of Operation Protective Edge.


The three soldiers spent Friday night drinking alcohol illicitly, while carrying out routine operations such as fence patrols and guard duty. Once caught, they admitted to drinking, but became worried about the anticipated punishment – apparently imprisonment in a military jail - and took their belongings and returned home. Only one was persuaded to return to the unit.
The military has yet to decide whether to involve the Military Police investigative unit and open a criminal investigation into the soldiers. They are expected to undergo disciplinary proceedings in their unit.
"A Palestinian suspect crosses the fence to infiltrate Israel almost every day, and riots by scores of Palestinians by the fence have only multiplied since the end of Operation Protective Edge – especially on weekends," said a source in the unit.
"If, heaven forbid, they had encountered terrorists while under the influence of alcohol, or even a more minor operational event, the result could have been disastrous. It's outrageously irresponsible."
The brigade praised the commander's alertness and rapid response, and noted that the incident was not typical of the unit and would be thoroughly investigated.
The brigade's soldiers received accolades for their performance in Operation Protective Edge, and have remained in the Gaza envelope area to carry out routine security measures.
The IDF strictly forbids the consumption of alcohol at any time and at any base, whether in the rear or on the frontline.
"The IDF takes the incident very seriously," said an IDF spokesman. "The soldiers will be tried within the unit and will receive the appropriate disciplinary action."