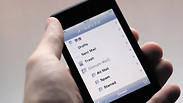 לשימוש מקומונים בלבד טלפון נייד חכם סלולרי סלולארי סלולאר סלולר
Photo: Shutterstock
Altair Semiconductor says it has developed a new technology that will allow small devices like security alarms and electricity meters to connect to fourth generation (4G) mobile networks more efficiently.

A big limitation for devices that use 4G technology known as LTE has been their short battery life.

Altair said it has designed a new chipset - which controls data flow - that has up to 10 times lower power consumption, and half the connectivity cost, of the standard LTE technology being used today.

"We're talking about repositioning LTE to serve down to the level of street light sensors, smart home gateways, vehicle telematics," Eran Eshed, co-founder and vice president of marketing, told Reuters.

A smart meter can run for up to 10 years with Altair's chipset, and wearable devices, like pet tracking systems that previously could not run on 4G, can last for days, he said.

The new chipset, which is currently being sampled by potential customers, will start impacting sales in the first quarter of 2016, Eshed said.

Senior IHS analyst Josh Builta said the long-term potential for the new chipset is strong, though it might face some limitations in the short term since it cannot run on 3G networks as a back-up and not all countries have comprehensive LTE coverage.

"That will become less of an issue in upcoming years," he said. "It's a potentially very large market. You don't necessarily need to control it, but just having a good portion of it could be very substantial."

The Israel-based company, which to date has raised more than $150 million, is also considering an initial public offering in the next 12 months, most likely on Nasdaq, Eshed said.

The most recent round of fundraising about six months ago included Sandisk and Vaizra Investments.

The company is not yet profitable, Eshed said, but "if we execute on our business plan and 2015 goes as expected, it's a matter of months".