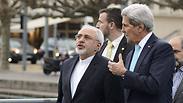 Javad Zarif and John Kerry in Geneva
Photo: EPA
US Secretary of State John Kerry is warning that public discussion of details of the ongoing nuclear negotiations with Iran will make it more difficult to reach a deal that prevents the country from developing atomic weapons.

In comments to reporters in Geneva on Monday, Kerry said he was concerned by reports that some details of the talks would be revealed in coming days. He did not elaborate, but Israeli Prime Minister Benjamin Netanyahu will speak in opposition to a potential Iran deal in an address to Congress on Tuesday.

Israeli officials say Netanyahu plans to discuss elements of the negotiations that he finds problematic and dangerous to Israel. Although Kerry did not identify Netanyahu as someone who might talk about details of the negotiations, he strongly hinted that was the case.

Also speaking in Geneva on Monday, Iranian Foreign Minister Mohammad Javad Zarif said a deal could be concluded this week if the United States and other Western countries have sufficient political will and agree to remove sanctions on Tehran.

"Our negotiating partners, particularly the Western countries and particularly the United States, must once and for all come to the understanding that sanctions and agreement don't go together," he said. "If they want an agreement, sanctions must go... We believe all sanctions must be lifted."

Kerry's comments regarding a potential information leak were unprompted by any question and came in his prepared opening remarks to a press conference after he delivered a speech defending Israel at the UN Human Rights Council.

"We are concerned by reports that suggest selected details of the ongoing negotiations will be discussed publicly in the coming days," Kerry said. "I want to say clearly, doing so would make it more difficult to reach the goal that Israel and others say they share in order to get a good deal. Israel's security is absolutely at the forefront of all our minds but rightly so is the security of all the other countries in the region, so is our security in the United States."

Immediately after the press conference, Kerry headed to nearby Montreux, Switzerland to begin a new round of nuclear negotiations with Iranian Foreign Minister Mohammed Javad Zarif. Those talks are expected to last until Wednesday and will be underway when Netanyahu speaks in Washington to both the America Israel Public Affairs Committee on Monday and Congress on Tuesday.

Kerry cited "some progress" in the talks as negotiators bear down in trying to reach an end of March target to reach the outline of a final deal that they want by July.

But, he also said much more work was needed to ensure that all possible pathways for Iran to develop a nuclear weapon are verifiably closed off.

"Right now, no deal exists, no partial deal exists and unless Iran is able to make the difficult decisions that are required there won't be a deal," he said.

Zarif told reporters that that Iran, whose disagreement with six world powers over how fast sanctions should be dropped is one of the main obstacles to a final nuclear accord, had demonstrated its political will by bringing its highest authorities to the talks and leaving "no stone unturned".

Asked about his expectations for talks this week with US Secretary of State John Kerry, Zarif said things were advancing. "We have made some progress since last time and if there is the political will to accept that an agreement and sanctions cannot go together, then we can have an agreement this time."

The objective of the negotiations is a deal that ensures Iran's nuclear programme is exclusively peaceful and also ensures that all sanctions are lifted, Zarif said.

Asked if what the West sees as the possible military dimensions of Iran's nuclear activity had been discussed, Zarif said: "We talked about all the issues we were supposed to talk about." Iran denies seeking nuclear energy for bomb purposes.

Also at Geneva, US Secretary of State John Kerry said there had been some progress in the Iran nuclear talks but there was "a long way to go and the clock is ticking."

He also voiced concern about the possibility of selective leaks in the coming days about the talks, which he will resume with Iran's Foreign Minister Mohammad Javad Zarif in Montreux, Switzerland.