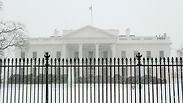 White House
Photo: Reuters
WASHINGTON – White House Press Secretary Josh Earnest said on Monday that the "United States has been providing our Israeli allies regular, detailed, classified briefings; the release of that information would betray the trust between our allies."

Israeli media outlet Channel 10, however, claimed on Monday evening that the US and Israel have ended their intelligence cooperation on the Iranian nuclear program. According to the report, the coordination was ended due to the rising tensions between the two countries over Prime Minister Benjamin Netanyahu's speech.

The Channel 10 report claimed the intelligence sharing helped the International Atomic Energy Agency to gather information for its reports on Tehran's nuclear ambitions.

In the press briefing, Earnest said that that Netanyahu's address to the US Congress scheduled for Tuesday is unlikely to complicate ongoing nuclear talks with Iran.

White House press briefing ( )

"It shouldn't, and it's because the international community is united as we continue to pursue a diplomatic resolution to the international community's concerns with Iran's nuclear program," White House spokesman Josh Earnest told reporters in a briefing.

Earlier on Monday, Netanyahu addressed the AIPAC conference in Washington, DC ahead of his Congress speech. "The days in which Jewish people are passive in the face of those who want to annihilate us are over."

"Today, we are no longer silenced, today we have a voice, and tomorrow as prime minister of the one and only Jewish state, I plan to use that voice. American leaders worry about the security of their country, Israeli leaders worry about the survival of their country. I think that encapsulates the difference," Netanyahu said.

Even earlier on Monday, in comments to reporters in Geneva on Monday, US Secretary of State John Kerry said he was concerned by reports that some details of the talks would be revealed in coming days. He did not elaborate, but Netanyahu's speech falls within that timeframe.

"We are concerned by reports that suggest selected details of the ongoing negotiations will be discussed publicly in the coming days," Kerry said. "I want to say clearly, doing so would make it more difficult to reach the goal that Israel and others say they share in order to get a good deal. Israel's security is absolutely at the forefront of all our minds but rightly so is the security of all the other countries in the region, so is our security in the United States."