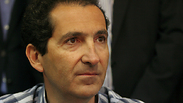 HOT owner Patrick Drahi tops list of rich Israelis
Photo: Amit Magal
Nine Israelis made the cut on this year's list of the 500 wealthiest people in the world that was published by Forbes on Monday. According to Forbes, the world's 1,826 billionaires – an all-time record - are worth a collective $7.05 trillion.

French-Israeli telecom and cable magnate Patrick Drahi, owner of Israel's HOT cable company, was 2015's 57th wealthiest person, with a $16 billion net worth.

The second-richest Israeli was Eyal Ofer, the son of shipping magnate Sammy Ofer, who died in 2011 and was once Israel's richest man.

Businessman and former MK Stef Wertheimer – the wealthiest person on the list who resides in Israel – had a fortune of $5.6 billion after selling 80% of his ISCAR Metalworking Company for $5 billion to Berkshire Hathaway in 2006.

Arnon Milchan, a film producer who said he was once a secret agent and arms dealer has amassed $5.1 billion. Idan Ofer, brother to Eyal, had $4.8 billion. Businesswoman and philanthropist, Shari Arison, who owns the company that controls Bank Hapoalim, has an estimated $4.4 billon.

Yitzhak Tshuva, who lives in Netanya, according to Forbes, has accumulated a $3.6 billion fortune from owning real estate company El-Ad Group and the Delek Group conglomerate.

Haim Saban, who first became successful as a television producer, came in at number 497 with $3.5 billion.

Diamond tycoon Beny Steinmetz's mining empire has also brought him assets of $3.5 billion.

As for neighboring countries, Forbes listed Nassef Sawiris as Egypt's wealthiest person with $6.3 billion and Najib Mikati as Lebanon's richest person with $3.3 billion. The wealthiest person in the Middle East was Prince Alwaleed Bin Talal Alsaud of Saudi Arabia, with a net worth of $22.6 billion – making him the 34th richest person on the planet.