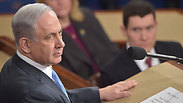 Netanyahu during Congress address.
Photo: AFP
Israeli Prime Minister Benjamin Netanyahu said Wednesday his speech to the US Congress offered a "practical alternative" to a possible Iranian nuclear deal and that lawmakers now "understand better" why the deal is bad.

Netanyahu's assertion came after President Barack Obama said the Israeli leader had offered no viable alternative to preventing Iran from getting nuclear weapons.

"There was nothing new" in the speech, Obama said. He said Netanyahu made almost the same speech when he warned against the interim deal reached with Iran, but that the interim deal has resulted in a freeze and rolling back of Iran's nuclear program.

In a statement released after he landed in Israel, Netanyahu said the alternative deal he presented in Congress would make it harder for Iran to get the nuclear bomb.

"I proposed a practical alternative that through tougher restrictions would extend the breakout time, by years, that it would take Iran to reach a nuclear weapon if it decides to breach the agreement," the Israeli prime minister said.

He said his proposal would also maintain restrictions until Tehran stops "its sponsorship of terrorism around the world, its aggression against its neighbors and its calls for Israel's destruction."

He said he received "very encouraging" responses from Democrats and Republicans to his speech. "I received the impression that they understand better why this deal is bad and what the right alternative to this deal is," Netanyahu said.

Netanyahu's contentious speech to Congress on Tuesday took place despite objections by the White House, aggravating his already-strained relations with Obama.

The West fears Iran could build an atomic bomb with its nuclear program. Iran says its program is for peaceful purposes such as energy production and medical research.

Iran and the US, Russia, China, Britain, France and Germany reached an interim accord in November 2013. Now, negotiators hope to reach a rough draft of a deal on Iran's disputed nuclear program by the end of March and a final agreement by June 30.