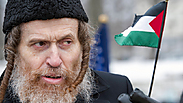 Ultra-Orthodox protester at rally
Thousands of Satmar Hasidic Jews from the extreme faction of the Neturei Karta sect, a small ultra-Orthodox sect that oppose the existence of the State of Israel, gathered in a series of demonstrations in New York to protest Prime Minister Benjamin Netanyahu's speech to Congress on Wednesday.
They claimed that they considered Netanyahu's decision to deliver the speech, despite US President Barack Obama's objection, and the prime minister's calling into question of a developing agreement with Iran, is a form of "Hitgarut Ba'Umot" (a provocation of the non Jewish nations).
Local demonstrations were held at various Hasidic strongholds including in Borough Park, Williamsburg, Lakewood, Monroe and Monsey, and the main rally was held at 4:30 pm (NYC time) in front of the Israeli Consulate in Manhattan. The protests were mostly attended by followers of Rabbi Zalman Leib Teitelbaum. Rabbi Aaron Teitelbaum, on the other hand, felt a critical speech he delivered was enough.
Small groups of Neturei Karta members also demonstrated outside the Congress in Washington – and near the American Consulate in Jerusalem, after flyers were distributed over the past few days in Hasidic communities in New York, with the message: "Lech Knos es Kol Hayehudim" (Go and gather all of the Jews – a quote from The Book of Esther), chosen in inspiration of Esther's struggle with Haman. The Hasidic Jews claimed that Netanyahu's actions endangered the American Jewry. "He doesn't represent us," they said.
Among the speakers who addressed the crowd at the main rally were rabbis, yeshiva heads and the Satmar Rebbe, Rabbi Zalman Teitelbau. "We know that Netanyahu was received warmly in Congress, and that he drew applause – but that doesn't change our opinion," the protest's organizers said. "He came despite US's approval and against the will of president Obama, and we are just providing the sane voice which opposes to Netanyahu's conduct."
Several days ago, the Satmar Rebbe, Rabbi Zalman Teitelbaum, called on his followers to protest Netanyahu's visit, saying that the prime minister's assertion that he speaks on behalf of all Jews was "an unparalleled desecration of God, a serious provocation against the nations. And even the Zionists admit that the US is their best friend … and now he wants to come to provoke the US President," the website JP Updates cited him as saying.