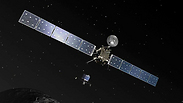 The global commercial space economy in 2013 was estimated by the OECD to be more than $250 billion.
Photo: Reuters
Israel is embarking on a five-year mission to stake its claim on a crowded new frontier, the $250 billion a year commercial space market.

Using the expertise of a defence industry that created technology such as the "Iron Dome" missile interceptor, Israel plans to move beyond its current focus on spy and military communications satellites into producing civilian devices, some small enough to fit in your hand.

"The idea was that we have a well-developed space infrastructure for our defence needs, and without a big financial investment, we can use it to grab a few percentage points of the commercial market as well," said Issac Ben-Israel, chairman of the Israel Space Agency.

Ben-Israel hopes the country will capture at least a three percent market share, but it faces competition from global technology giants looking for new markets and industries. Some firms are already pushing the boundaries of technology, such as Virgin Galactic founder Richard Branson's project to take tourists into space for $250,000 a ticket.

China plans to build its own space station by 2022, and Google co-founder Larry Page is backing an asteroid mining company.

As with phones and computers, the space race is moving into making things smaller, lighter and more efficient - something Israel has excelled at over decades of designing satellites that keep an eye on unfriendly neighbours.

One project, Adelis-SAMSON, is designing three miniature, or nano, satellites for the first controlled formation flight in space.

On a low-friction tabletop at the Technion institute in the port city of Haifa, the navigation system is being tested in a cluster of round robots, the size of dinner plates, that weave in and out of formation like autonomous air hockey pucks.

The launch is scheduled next year. While in orbit, digital receivers developed by a co-creator of the Iron Dome system will locate distress signals on earth, with the three satellites using triangulation to achieve pinpoint accuracy.

"We call it maximising performance per kilo," said project head Pini Gurfil, holding one of the satellites, about the size of a shoebox. "The new propulsion system, the application for search and rescue on demand, the software and algorithms, they will be really significant for the commercial market."

For decades Israel's space industry was driven by security needs. Since the 1980s, it has launched a series of spy and communications satellites and is considered one of the top 10 leading space-faring nations.

But its civilian programme lagged behind.

That changed three years ago when the government for the first time earmarked a modest sum of about 90 million shekels ($22.5 million) to the civilian space agency, which then supported start-ups and projects such as SAMSON.

Industry sales have since doubled to over $1 billion. And trends favour Israel's market strengths, like miniaturisation, digitisation and making lightweight systems, said Ben-Israel.
Investment
The global commercial space economy in 2013 was estimated by the OECD to be more than $250 billion.

In the past decade, commercial space ventures received more than $13 billion of non-government equity investment, said Amir Blachman, managing director of US-based Space Angels Network.

About 20 percent of that came from angel investors - wealthy individuals who fund start-ups in return for a stake - and venture capitalists. That number is rising and Blachman expects to see the same growth in Israel.

"Because it has a broad spectrum of proven expertise and knowledge, Israel is ripe to have a lot of start-ups and those start-ups will have a lot of amazing technologies for export," he said.

One company, SpacePharma, developed a laboratory that fits in the palm of your hand and will orbit in a nano-satellite, allowing scientists to conduct experiments and watch them happen on their smart phones.

Drug companies, food makers and others spend about $3 billion a year to access the microgravity of space, but only those with big enough budgets and political connections can send their research to astronauts on the International Space Station for testing, said SpacePharma CEO Yossi Yamin.

"We're expanding bandwidth that is very tight to allow more end users," he said. "This is an endless market."

Rather than paying millions of dollars for an experiment, it will cost a few hundred thousand dollars, he said. Their first satellite will launch in the third quarter of this year. ($1 = 3.9957 shekels)