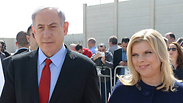 Benjamin and Sara Netanyahu at the airport
Photo: Amos Ben Gershom, GPO
Prime Minister Benjamin Netanyahu on Wednesday returned to Israel following a trip to Washington that he called "historic". The flight that brought the prime minister and his entourage to the American capital cost $1,157,000, which is NIS 4,611,000.
The sum was paid by the state to El Al, which won the tender announced by the Prime Minister's Office. The plane was outfitted with a resting chamber for Netanyahu and his wife.
The couple spent the flight resting, and the prime minister did not at any point come out to speak with reporters accompanying the flight.
Netanyahu landed in Washington on Sunday and departed on Tuesday afternoon. The $1.57 million price tag did not include the cost of a hotel or the expenses for the entourage's accommodation and security.
"The procedure for the prime minister's flights abroad for diplomatic meetings has not changed and is identical to what was the norm in the Prime Minister's Office in the past," the PMO said in a statement.
"In accordance with instructions by the security forces, the prime minister flies abroad only on Israeli airlines. Communication with the airline companies is done by the government's travel company, which answers to the Finance Ministry." The PMO added that El Al's price quote included a note that there would be no additional charge for the resting chamber.