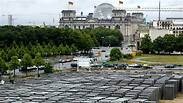 In Berlin? Looking to discover the Jewish connection of Berlin's landmarks? A new app will help you do just that.

But while it offers tailor-made tours for tourists looking to learn more about the Jewish community in the German capital, both of the past and present, developers also had in mind a different target audience – the young generation of Germans, many of whom come from immigrant families.

Touring Berlin

Upsurge in Jewish population in German capital has spurred tourism to an array of monuments, synagogues, museums related to Jewish history.

"A person of Turkish origin might say, 'what does Jewish history and Hitler have to do with me? This is not my problem, even if I live in Berlin,'" explained Dr. Christian Schölzel, the historian whose research produced the app. "We tried to create a bridge between the immigrants, who were persecuted, and people whose families immigrated nowadays."

Schölzel spent two years looking through official archives and picture databases, to narrow down the list of sites which were significant to the Jewish community in Berlin, from thousands to only ninety.

The end result is a smartphone app and a website which offer a detailed map and a description of each modern-day location and its Jewish connection, alongside historic photographs and video clips.

The list of sites ranges from the home of the renowned actor and director Max Reinhardt, to the Institute for Sexual Research which was founded by a Jew, and even the high-end department store KaDeWe, which draws in tourists anyway – but never before due to its connection to the Jewish community. Some sites are even arranged in the form of guided tours, devoted to topics like Jewish women in Berlin or the fashion houses of the city.

"When choosing the sites, we tried to portray the Jews not as victims, but also as persons with their own culture and identity," added Schölzel. "Kids usually aren't interested in visiting memorial sites, but we hope that the medium, the app, will make them feel closer to the subject. We also tried to spread the sites around the city, so perhaps children who live nearby could go on this tour and say, 'this is my site.'"

Although one of the tours invites the users to follow the Paths to Deportation, from ghettos to detention centers from which they were deported to death camps in the East, Schölzel emphasized that the goal isn't to recreate the experience.

"We are still the descendants of the perpetrators, not the victims, and we must be regardful of the people and the trauma," he argued. "We don't offer to users, 'feel the danger, walk in the shoes of a Jew.' We want to be respectful."

This story was reprinted with the permission of i24 news.