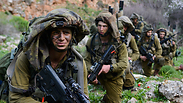 Nahal Brigade soldiers in action
Photo: Amit Nino/IDF)
Less than a year after operations to destroy tunnels built by Hamas, the IDF has been training extensively to prepare for the possibility of similar structures being used by Hezbollah. Sources in the IDF estimate that the Shiite organization will, like Hamas, exploit the advantages of underground tunnels and attempt to kidnap soldiers.
While there has been no specific intelligence pointing to digging of tunnels beyond the northern border, it is believed that Hezbollah will, in the event of a third war in Lebanon, use tunnels against IDF soldiers conducting maneuvers in Lebanese territory.
The IDF seeks to implement lessons learned from Operation Protective Edge. Lieutenant Ethan Fund, who received the Medal of Distinguished Service after following Lieutenant Hadar Goldin into a tunnel in Rafah on "Black Friday", had no ability to communicate with forces above ground for minutes on end.
In recent weeks, the Nahal Brigade's reconnaissance battalion -- the first fighting force to enter Gaza during the ground operation in Operation Protective Edge -- has practiced destroying tunnel openings by blowing up concrete blocks that weight hundreds of kilograms.
A Nahal Brigade officer told Ynet that such concrete slabs were used by Hamas to build and fortify tunnel entrances. "This is a capability with which we will have to contend on the northern front as well," said the officer. "We dedicated a week to demolition training for sappers in order to implement lessons from Operation Protective Edge that are also relevant for Lebanon."
He added that for the first time, the brigade practiced using complex operating systems and special wiring.
Advanced communications and personal weapons
The advanced detonation training was an addition to the reconnaissance unit's concluding week, which included combat drills over an area of scores of kilometers and for 80 hours with no sleep. Training in the Upper Galilee, the soldiers simulated a lengthy exercise in south Lebanon that included locating and destroying long-range rocket launchers and close-range altercations with Hezbollah fighters.
Meanwhile, the Infantry Corps' special engineering forces have been improving their ability to destroy tunnels and fighting inside them by acquiring customized communication equipment that works underground. This equipment was previously the province of elite units such as Sayeret Matkal, whose soldiers served as "tunnel combat contractors" during ground operations in the Gaza Strip.
The army is also considering giving recon units handguns again, after several years in which they were equipped only with personal assault rifles.
A General Staff committee headed by Major General Yossi Becher has been discussing the most effective methods of handling the tunnel threat, as the army was aware of 20-30 tunnels on the eve of Operation Protective Edge but did not prepare a plan for their destruction.
In addition, no combat doctrine was developed to deal with the threat. The result was that many improvised methods – some of which have not been publicized – were used to destroy tunnels, while there were lengthy delays in locating them because of IAF bombardment of areas suspected of containing tunnels.