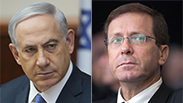 PM Netanyahu / Isaac Herzog
Photo: Alex Kolomoisky/AFP
A new Channel 2 News poll released Wednesday showed the Zionist Union with a one-seat lead over Likud in the upcoming election. According to the poll, the Zionist Union would receive 24 seats to Likud's 23. The poll also had the United Arab List as the third-largest party, with 13 seats.

In comparison to the previous poll, Netanyahu gained one seat, while the Zionist Union retained its 24 seats, which the pollster noted could be attributed to the prime minister live address to the US Congress Tuesday evening.



According to the poll, the right wing Bayit Yehudi stood at 12 Knesset seats, tied with Yair Lapid's Yesh Atid. Moshe Kahlon's Kulanu was polling at eight, showing he was losing the fight for centrist voters to Lapid.

Rightwing Yisrael Beytenu party, led by Foreign Minister Avigdor Lieberman was tied with the religious ultra-Orthodox Sephardic party Shas and the ultra-Orthodox United Torah Judaism with six Knesset seats. The left wing Meretz was also polling at six, a one seat rise from the previous poll which had them scratching the election threshold.

Yachad – an offshoot of Shas – was standing at the threshold, the poll claimed, polling at only four Knesset seats.

According to the to the poll, 15 percent of voters were still unsure about which party they would vote for. When asked who was better equipped to serve as the prime minister, Netanyahu beat out Herzog by 47 percent to 28 percent.

Some 43 percent of respondents said they watched Netanyahu's speech live but that it did not influence their perception of the incumbent prime minister.

But a quarter of Israelis polled said it strengthened their image of Netanyahu. Some 19 percent said slightly improved their esteem of Netanyahu, while only 8 percent said it harmed him. Some 4 percent said the speech had a very negative effect on their assessment of the prime minister.

Israelis were divided regarding the reason they attributed to the speech: Only 31 percent said the speech was really intended to stop Iran from reaching a nuclear deal with the West, while 30 said they thought it was an attempt to shore up support for Netanyahu.