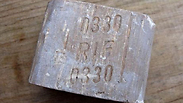 Dutch vendor attemps to sell soap he claims made from Holocaust victims
The Dutch newspaper NRC reported Wednesday that police in north Holland are investigating an antiquities vendor who reportedly attempted to sell soap that had been made during the Holocaust, which he claimed was made from bodies of Jewish victims killed in Nazi extermination camps.

The vendor reportedly attempted to sell the soap for 199 euro.

The troubling news came from historian Arthur Haraf, who said the vendor offered to sell objects that he found near a concentration camp, from which Dutch Jews were sent to extermination camps.

2010 Investigation

Canadian authorities testing swastika-engraved soap to see if, as advertised, it was made from human remains of Holocaust victims

The historian told the Dutch newspaper that the vendor was selling dentures, tooth brushes and glasses, which he claimed were taken from the Jews at the concentration camp.

"This is a terrible act and against the law," said Haraf. "Whatever is found near the concentration camp and belongs to the events of World War II automatically becomes property of the Westerbork Memorial Museum."

Westerbork was a Nazi refugee, detention and transit camp in Hooghalen, ten kilometers north of Westerbork, in the northeastern Netherlands.

Haraf also claimed that he succeeded in stopping the vendor from participating in events which sell historical military equipment. "In the end we will reach a point where neo-Nazis will use all of these horrible objects," he said.

Jewish organizations responded angrily at the news of the Dutch vendor. "It is saddening and disgusting to find out that there are people interested to gain money from the Holocaust," said Ron Eisenman from the CIDI, a Dutch Jewish organization.

"We can only watch and hope that collectors will use healthy logic and will not participate in these things," said Eisenman.

Historian Joel Stoffels saw an add last week selling Holocaust items and was shocked. "I was amazed to see it," said Stoffels. "All of these objects are supposed to be displayed in a respectable way and now they are being displayed as merchandise."

The Chairman of the Center for Jewish Debate, Jaap Fransman, also expressed his anger at the news. "The selling of these accessories and objects is not just distasteful but also crazy."