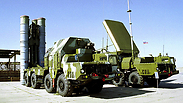 Egyptian and Russian media outlets have been reporting that an advanced Russian surface-to-air missile system, the S-300, has arrived in the Middle East. The Egyptian military has likely already commenced deployment of the long-range anti-aircraft batteries across the North African country.

The S-300, the Russian version of the American Patriot system, is capable of intercepting aircraft at a range of up to 200 kilometers and a variety of altitudes simultaneously. The reported shipment marks the weapon system's first introduction to a country sharing a border with Israel.

It is unclear whether Israel took a position for or against the Egyptian procurement from Russia and it is possible that Jerusalem abstained from expressing a particular opinion. Nevertheless, the deployment of the advanced S-300 to the Middle East creates a difficult dilemma for the Israeli air force – which will now face an anti-aircraft missile system which covers more of the region than ever before.

Israel and the US pressured the Russian government to cancel its shipment of the surface-to-air missiles to Iran and Syria – even after Moscow signed procurement contracts with the two regional powers – because their deployment would damage Jerusalem's air superiority and the deterrence of the Israeli air force.

Leading defense weekly Jane's reported back in October 2014 that Egypt wanted to purchase a S-300M system (with an operational range of 200 kilometers). The deal was reportedly worth half a billion dollars and agreed upon in an August 2014 meeting between Egyptian President Sisi and Russian President Putin in Sochi.

During that time the US administration had placed an arms embargo on Egypt because of Sisi's treatment of the Muslim Brotherhood. In that period the Americans saw Sisi as responsible for a military coup which overthrew the Brotherhood's elected government.

Russia seized the distancing between the US and Egypt to restore its proximity to Cairo using foreign aid – and to sell its anti-aircraft system while exploring further deals for its warplanes.

The warming relations between the two nations reached their peak when Putin visited Egypt in February, when the purchase of the missile system was finalized and shipments were initiated – in accordance with Egypt's ability to keep up with payments to Moscow.

Meanwhile – and in spite of the financial crisis engulfing Egypt – Cairo also agreed in February a 3 billion euro deal with French manufacturer Dassault for the purchase of 24 Rafale jets. This deal was also spurred by the American embargo following a delay in its supply of F-16 warplanes and Apache helicopters – for which Egypt had already paid in full.

Next year, Cairo will receive the first of two submarines purchased from Germany to replace its aging Chinese-made fleet which was built in the 1970s.