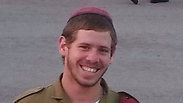 The Purim party at Alonei HaBashan, in the Golan Heights, was packed with people wearing a variety of costumes, but one in particular stood out for its emotional significance. It was that of 16-year-old Miriam Shalev, who wore the IDF uniform and red beret that belonged to her brother, Sergeant Shahar Shalev, who was killed in Operation Protective Edge, missing the annual family Purim gathering for the first time.
"My mother suggested I wear his uniform for the Megilla reading," Miriam said on Wednesday. "It's a great honor, but it's also very difficult. Purim was Shahar's holiday. When he was studying in the yeshiva, he was always the bartender at the Purim party and made sure to drink with everyone, so that everyone would be happy.
"I have a hard time with the fact that he won't be here for the holiday dinner tomorrow, that he won't come home from the yeshiva all of a sudden with a funny haircut," she added.
Miriam is a student at Ulpanat Nov in the Golan Heights. She wore a skirt on top of the IDF uniform pants in order to maintain modesty, and put the paratrooper's red beret on her head. "We won't break down and say our lives ended with Shahar's death," she said. "We will live on, and be happy on Purim and show that we will win."
Shahar Shalev was 20-years-old when he died. He was wounded in the first week of Operation Protective Edge, in Khan Yunis. The paratrooper succumbed to his injuries after a five-week struggle.
"Life goes on," Shimon, Shahar's father said on Wednesday. "We're trying to take things to a good and right direction. A month and a half ago, our first grandchild was born. Generations come and go and we choose life, try to be happy on Purim and remember the good things."
"Purim was Shahar's holiday," his mother wrote in a Facebook post this weekend, asking her son's friends to dedicate their first drink of Purim to him.