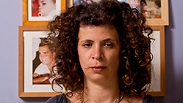 Michal Kesten-Keidar
Photo: Yuval Chen
Widow of fallen IDF officer ahead of rally for change: 'I cannot remain silent any longer'
Michal Kesten-Keidar, who lost her husband in Operation Protective Edge, will take part in 'Israel wants change' rally on Saturday: 'I lost the love of my life this summer, I can't sit on the sidelines any longer.'
Michal Kesten-Keidar, the widow of Lt.-Col. Dolev Keidar, the commander of the Gefen Battalion who was killed in Operation Protective Edge, will be among the speakers at a rally called "Israel wants change" in Tel Aviv's Rabin Square on Saturday.

Speaking with Ynet ahead of the demonstration, she said: "At the rally, I'm going to say that I know that the high costs of living are burdensome, and that it's impossible to buy an apartment here, but I lost the love of my life this summer, and I want to ask the voters to vote for the person who will try to prevent the next war, and not for the one who promises to lower cottage cheese prices."

Lt.-Col. Keidar was awarded a Head of Regional Command (Aluf) Citation for his service, after he was killed in combat when terrorists infiltrated Israel and fired an anti-tank missile at the vehicle he was traveling in. "We can't continue with this method of putting out fires," his widow continued. "Every summer there's a war, killing soldiers who are fathers, sons, brothers, and no one is doing enough to prevent it. There's a feeling that they work only with power and more power, which isn't working, certainly not in Gaza."

The decision to come out publicly with her opinion came after the disaster she suffered. "I've always had these opinions. Every time there was a war, I would become overcome with fear mixed with anger. I felt this way with every round of fighting, but I sat on the sidelines. After what happened to me, I will not allow myself to sit aside any longer. I stopped thinking about considerations such as will it hurt me, brand me as a leftist or make people not like me. The worst thing in the world happened to me and I can no longer keep silent.

After learning about the planned rally, Kesten-Keidar contacted the organizers with a request to address the crowd. "One of the organizers of the demonstration is also a widow. I saw something she published and identified with it. I decided to speak as well, and it's the least I can do: go up on stage and talk for five minutes."

The rally, initiated by the "One Million Hands" peace organization, will be held on Saturday at 7:30 pm at Tel Aviv's Rabin Square, under the banner "Israel wants change".

Apart from Kesten-Keidar, other speakers will include Former Mossad head Meir Dagan, former head of the Northern Command Amiram Levine, Israeli artist Yair Garbuz and Dead Sea Works' workers committee chairman Edmond Lankri.