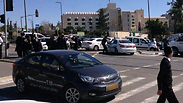 Scene of Jerusalem attack
Jerusalem was hit by a suspected vehicular terror attack Friday morning, police and paramedics said. A Palestinian man from East Jerusalem rammed his car into a light rail train station after plowing into a group of female officers in northern Jerusalem, wounding five officers and an Israeli.
MDA paramedics administered first aid to six people, five female officers, three of which were in light to moderate condition while two were lightly hurt; and an Israeli man in his 50s who was hurt at the rail station. MDA spokesman Zaki Heller said that paramedics immediately arrived on scene and treated the five who were injured. All five were in their 20s and another female officer suffered anxiety.
צילום: בנה מנטל וג'סיקה מוציו
The attack took place outside a Border Police base in northern Jerusalem on Shimon HaTzadik street, which was also the site of a November 5 hit and run terror attack that killed one border police offer and injured 13 people. The area has seen no less than 5 terror attacks in the past year.
After hitting the group of officers, who were outside the base, the Palestinian continued 200-300 meters to the light rail station, where he hit a bicyclist - a 51-year-old Israeli man.
The terrorist, Udaayi Salayma from Ras al-Amud in East Jerusalem, was shot by a Border Guard who was present at the scene as part of a training exercise going on at in the base - ending the incident by seriously wounding him. A large cleaver was found on the Palestinian's body after the attack, which he reportedly attempted to use on the forces after crashing his car.
Police identified the attacker as a Palestinian man in his twenties from east Jerusalem. Police say it is difficult to prevent such attacks, which appear to be carried out by "lone wolf" assailants who are not thought to be dispatched by a militant organization.
Jerusalem Mayor Nir Barkat responded to the attack, saying: "We will not let terror disrupt our daily lives and we will continue to fight it without compromise. I would like to commend the security personnel, the municipal guards, the police and alert citizens who quickly brought the event to an end and prevented further injuries.
"Our response to terror is to continue on with our routine, and as such all Purim events in the capital will continue as planned and the security throughout the entire city will be increased, including the main event to be held at Safra Square in a closed and secure location. I invite all the residents of the country to celebrate Purim in Jerusalem and strengthen us."
Kids dressed for Purim celebrations look at area after terror attack. Heightened security continues in Jerusalem pic.twitter.com/yDaive5vU1

— Micky Rosenfeld (@MickyRosenfeld) March 6, 2015
"The swift and determined response stopped the attack as it was beginning and prevented more innocents from being injured," said Moshe Edri, Jerusalem Police Commander.
The latest attack comes just a few weeks after an ultra-Orthodox man was stabbed by an Arab teen in Jerusalem on February 22. The attack, which took place in Safra Square in Jerusalem, was stopped by Jerusalem Mayor Nir Barkat who was present at the scene with his security guard.
The two spotted the attacker while in a nearby car, jumped out of the vehicle and subdued the terrorist.
Friday was the seven year anniversary of the deadly Mercaz HaRav terror attack in which eight seminary students were brutally murdered in one Israel's most prestigious religious institutions.
Noam (Dabul) Dvir, Tazpit News Agency and AP contributed to this report