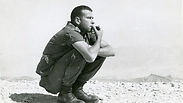 Former commander of the Sayert Matkal elite IDF unit Uzi Yairi was killed during attack.
Photo: GPO
Friday marks the 40th year mark since the deadly attack on the Savoy Hotel in Tel Aviv that resulted in the deaths of eight civilians and three soldiers.
On March 6, 1975 in the late hours of the night two dinghy boats reached the shores of Tel Aviv and on them were two terrorist units who were sent by Khalil Ibrahim al-Wazir, the founder of Fatah also known as Abu Jihad, to carry out a revenge attack for the 1973 Israeli raid on Lebanon, known as Operation Spring of Youth.
The terrorist units were spotted by a police patrol vehicle that happend to pass near the beach. The police officers in the patrol vehicle opened fire on the attackers which led to the explosion of one of the boats which was stocked with weapons.
The terrorists managed to escape the boats and reach the beach. They eventually made their way to the three-story high Savoy Hotel on Geula Street and captured hostages, taking them to the top floor of the building.
The first to arrive at the scene was Private Moshe Deutschmann of the Golani brigade who was on home leave during the time of the attack and ran over to the scene after hearing gunfire. Deutschmann shot at the terrorists with his personal weapon and was mortally wounded as a result of the fire exchange with the terrorists.
Deutschmann later succumbed to his wounds, when taken to the hospital. He was posthumously awarded the Medal of Distinguished Service.
A short time after Deutschmann arrived at the scene, as morning approached, the elite Sayeret Matkal IDF unit arrived at the scene. The IDF unit broke into the hotel, saving five hostages. However, eight hostages were killed during the mission. Two IDF soldiers were also killed during the takeover - Sergeant Itamar Ben David (20) and former Sayeret Matkal Commander Uzi Yairi (39).
Because of the Purim holiday, Yairi's memorial was delayed a week and will take place next Friday.