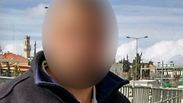 M., shot terrorist in his back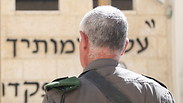 Border Police officer who helped M.
A Druze security guard, known only as M., helped put an end to Friday's terror attack after he fired at the terrorist who had just exited his vehicle after plowing into a group of Israeli officers.

"We were at the Ammunition Hill station. We saw some officers shouting so me and (another guard) ran towards the Border Guard base where we saw the wounded officers on the ground," he recalled.



The terrorist first ran over a group of female officers before turning to slam his car into a Light Rail station, hurting a 51-year-old Israeli; he then began to exit the car. It was at this point that M. and his fellow guard split up, with M. placing himself behind Udaayi Salayma, the 21-year-old terrorist from East Jerusalem.



"We saw the terrorist from a distance and there was a Border Officer in between who fired two shots at the terrorist from far away. I moved forward, heard the officer's gun shot and shot him in the back of his head."

According to M., Salayma was holding an cleaver at the time. "We identified him running with a cleaver in his hand. We chased him and he started screaming 'Allahu Akbar, Allahu Akbar'. That is when we finally understood that it was a terror attack, but thankfully it ended and we can return to our routine."

"I'm saddened that the officers were wounded but the important think is that the terrorist was neutralized,"

The attack took place outside a Border Police base in northern Jerusalem on Shimon HaTzadik street, which was also the site of a November 5 hit and run terror attack that killed one border police offer and wounded 13 people. The area has seen no less than 5 terror attacks in the past year.

"This is not my first terror attack," M. said, "there are always security events on the train."

The terrorist, Udaayi Salayma, from Ras al-Amud in East Jerusalem, was still in critical condition at a Jerusalem hospital. According to the police he had no past record for security related offenses.

However, a source from the neighborhood who spoke with Ynet said he is known in the area for criminal activities and that in the past some members of the Salayma family have been known to incite riots in the area.

Police said it was difficult to prevent such attacks, which appear to be carried out by "lone wolf" assailants who are not thought to be dispatched by a militant organization.

"The swift and determined response stopped the attack as it was beginning and prevented more innocents from being injured," said Moshe Edri, Jerusalem's police commander.