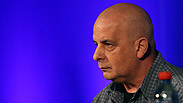 Yuval Diskin
Photo: Alex Kolomoisky
Yuval Diskin, former head of Israel's Shin Bet security forces, slammed Prime Minister Netanyahu over what he called his "failed" policy towards Iran and its nuclear program.

Diskin, who was privy to classified intelligence, said that rather than weakening Iran, under his watch the Islamic Republic's nuclear capabilities grew.

"The time has come to wise up to Netanyahu's posturing and big words. This is an empty show," Diskin said in reference to Netanyahu's rhetoric regarding Iran, the most recent example of which was 40 minute long address to a joint session of the US Congress which saw tensions between Israel and the US reach a record high.

He said that "even according to Google it is clear Netanyahu failed," he said, claiming the information was public knowledge.

"Six times more centrifuges, 12 times more enriched uranium, heavy water reactor for plutonium, uranium enriched to 20 percent," Diskin said, detailing the growth of Iran's nuclear program under Netanyahu.

"Everything was accelerated during his time as prime minister. The speech was just a smoke screen for his failures," he asserted.

"There is certainly room for concern about the way he's leading us for six years. This way will destroy Israel as a Jewish and democratic state."

He took a more personal line, saying "There were prime ministers who knew how to make historic decisions – Begin, Rabin, Sharon and others – even if when their security apparatus didn't back them. Netanyahu is not like that," Diskin said.

Diskin backed former Mossad head Meir Dagan, who said Netanyahu caused Israel severe strategic damage in the fight against Iran: "Dagan is not being misleading… Netanyahu massively failed in regard to the Iranian nuclear program."