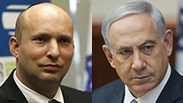 Naftali Bennett and Benjamin Netanyahu
Photo: AFP/ Alex Kolomoisky
Politicians from rightwing parties on Friday expressed dismay at the revelation that Prime Minister Benjamin Netanyahu had in 2013 offered what appeared to be drastic concessions to the Palestinian leadership on a number of core issues.

"The masquerade is over," said Bayit Yehudi Chairman Naftali Bennett.

"The next disengagement is already here, and is again led by Likud and by Tzipi Livni." According to him, "the 2015 elections have become a referendum on forming a Palestine in the '67 borders, and Bayit Yehudi is the last stronghold preventing Ariel and Eli from being rubble."

Bennett used his Facebook page to confirm the authenticity of the document and to reiterate that his party was the only one who would reject concessions. "I will be as clear as possible: In the next two years, unprecedented pressure will be put on Israel to give Judea and Samaria to the Arabs and form a Palestinian state there," he wrote. "Without a large Bayit Yehudi, this disaster will happen. There will be no one to stop it. The Europeans are waiting and preparing for it. So is the United States. The document published this morning is real. The facts are correct."

"If this document had been received by the government, Yisrael Beytenu would have firmly opposed it," said Yisrael Beytenu Chairman Avigdor Lieberman. "It's a repetition of the serious mistakes made during disengagement without any lessons being learned and without any advantages for Israel being achieved.

"This document does not solve the difficult problems that Israel faces: the need to bring an end to Hamas's rule of terror in Gaza, and the problem of the Arab Israelis," Lieberman added. He said that signing an agreement with the Palestinians alone would mean relying on Palestinian President Mahmoud Abbas, who has, according to Lieberman, proven that he is not a serious partner for conversation.

"Only a comprehensive regional solution that solves all the problems, particularly full normalization of relations between Israel and moderate Arab countries, ending the rule of Hamas, and exchanges of territory and Israeli Arab populations can bring security and peace to Israel," Lieberman claimed.

"The prime minister negotiated all of Judea and Samaria," said MK Ayelet Shaked, a member of Bayit Yehudi. To the residents of the Sharon area I say, if you do not want to be called the Judea and Samaria envelope area, we need a large Bayit Yehudi."

"Now it's clear to everyone that only Bayit Yehudi is truly loyal to Israel and the only party that will prevent dangerous and irresponsible diplomatic moves," said MK Uri Ariel, also of Bayit Yehudi.

"Likud evicted Jews from their homes in the past, and in a unity government with Tzipi (Livni) and Buji (Isaac Herzog), it could do so again," Ariel said. It's time to stop gambling on the security of Israel's citizens with plans for withdrawal and concessions created by the left, and to start protecting citizens' security. The left's illusions of peace only decrease the chance of attaining peace and give rise to more and more murderous Arab terrorism."

The document from August 2013 was attained by Ynet's print publication Yedioth Aharonoth and summarized results of the secret talks between Netanyahu's senior aide, lawyer Itzhak Molcho, and Palestinian President Mahmoud Abbas' affiliate, Hussein Agha. Netanyahu's representative offered what appeared to be drastic concessions to the Palestinian leadership on a number of core issues, including land swaps, a potential deal regarding Jerusalem and even a limited right of return for Palestinians.

The document offers what seems to be an opening for an Israeli return to the 1967 'Green-Line' borders – a longstanding Palestinian demands Netanyahu has rejected as a precondition for a peace deal on numerous occasions – on the basis of a mile-for-mile exchange ratio.

"… (T)here will be a full Israeli withdrawal implemented gradually of Israeli forces from Palestine's territory. The last of the Israeli forces will withdraw with the implementation of the agreement's final stage," the document recorded.

Regarding Jerusalem, which the Palestinians want as their capital and has been a nonnegotiable point for Israel, the document's wording was more careful, but not devoid of significance, offering an implicit recognition of the Palestinians' claim on East Jerusalem.