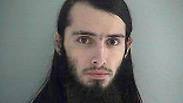 Christopher Cornell
Photo: AP
An Ohio man claiming sympathy with Islamic State militants and charged with plotting to attack the US Capitol said in a television interview that he would have shot President Barack Obama in the head.
Christopher Cornell, 20, told Cincinnati's FOX 19 WXIX TV that if he had not been arrested by FBI agents in January, he would have carried out an alleged plot to plant pipe bombs on the Capitol and at the Israeli Embassy.
"What would I have done? I would have took my gun, I would have put it to Obama's head and I would have pulled the trigger," Cornell, of Cincinnati, said in a telephone interview from the Boone County, Kentucky, jail aired on Friday.
"Then I would have released more bullets on the Senate and the House of Representative members, and I would have attacked the Israeli Embassy and various other buildings full of kafir (a Muslim term for infidel) who want to wage war against us Muslims and shed our blood. That's what would happen," he said.
Cornell, who repeatedly identified himself as Muslim, said he wanted to carry out the attack because of "the continued American aggression against our people and the fact that America, specifically President Obama, wants to wage war against Islamic State."
He said: "They might say I'm a terrorist, but you know we see American troops as terrorists as well, coming to our land, stealing our resources and killing our people, raping our women."
Cornell, 20, grew up in the Cincinnati suburbs and still lived with his parents. He said support of the Islamic State group is widespread.
"We're here in Ohio. We're in every state," he said. "We're more organized than you think."
At times what seemed like a nervous chuckle punctuated his responses. He said he would do whatever the Islamic State group asked of him, including beheading Americans, and predicted "there will be many, many attacks."
A federal indictment charges Cornell with two counts that carry possible sentences of up to 20 years each upon conviction: attempted murder of government employees and officials and solicitation to commit a crime of violence. He also faces a firearms-related charge. He has pleaded not guilty and awaits trial in Cincinnati.
Cornell was arrested after he researched how to make pipe bombs, purchased a rifle and ammunition and made plans to travel to Washington to carry out the plot, according to court testimony from an FBI informant.
He is being held without bail. The charges include attempted murder of government officials, possession of a firearm to commit a crime and solicitation to commit a violent crime.
"I got orders from the brothers overseas because I'm with the Islamic State. My brothers over there, in Syria and Iraq, gave me specific orders to carry out jihad in the West, so I did so," Cornell said.
Islamic State militants rule a self-proclaimed caliphate in parts of Iraq and Syria. The Federal Bureau of Investigation and the Department of Homeland Security warned police on Thursday about US youths wanting to join the Islamic State in the Middle East.
Cornell began plotting the attack in August, according to his indictment. He was arrested after he posted on Twitter that he supported Islamic State.
According to court documents, Cornell met with an FBI informant to discuss his plans.