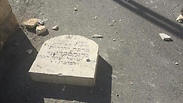 One of the headstones that were vandalized
Photo: Josh Wunder
Several gravestones were desecrated on Friday in the Jewish cemetery on the Mount of Olives in Jerusalem – not far from the Ras al-Amoud home of the terrorist who wounded six in an attack earlier in the day.

Jerusalem City Council member Aryeh King said gravestones had been damaged extensively.

King said that upon learning of the incident, he "headed out with a neighbor to chase the masked men, who immediately fled when they saw us." The council member claimed that Border Police officers and Jerusalem police had arrived to the area before he did, but failed to properly respond.

He added that the vandals prevented police from entering the cemetery, and that the police did not make any offensive moves. The police denied his claims, saying that officers arrived as soon as the incident was reported and immediately dealt with it.

Six people, including five female officers and an Israeli man in his 50s, were wounded in a suspected vehicular terror attack Friday morning when a Palestinian man from East Jerusalem rammed his car into them.

The attack took place outside a Border Police base in northern Jerusalem on Shimon HaTzadik street, which was also the site of a November 5 hit and run terror attack that killed one border police offer and injured 13 people. The area has seen no less than 5 terror attacks in the past year.

The terrorist, Udaayi Salayma from Ras al-Amud in East Jerusalem, was shot by a Border Guard who was present at the scene as part of a training exercise going on at in the base - ending the incident by seriously wounding him. A large cleaver was found on the Palestinian's body after the attack, which he reportedly attempted to use on the forces after crashing his car.

A source from the East Jerusalem neighborhood who spoke with Ynet said Salayma is known in the area for criminal activities and that in the past some members of the his family have been known to incite riots in the area.