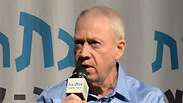 Maj. Gen. (res.) Yoav Galant
Photo: Herzl Yosef
Maj. Gen. (res.) Yoav Galant harshly criticized the conduct of the Netanyahu government on its handling of Operation Protective Edge this past summer, and said it failed to take proper action against the tunnels built by Hamas over recent years.

The Kulanu party candidate, who was speaking at a cultural event in Be'er Sheva on Saturday, said: "The government knows about the tunnels, as does the defense minister, and they don't take care of it; this is unacceptable. Thirty-something tunnels are not dug in a day…the State of Israel allowed 30 tunnels to be dug leading to preschools, and I find that unacceptable."

Galant stated that Israel's next round against Hamas will occur during the term of the next government due to the results of Operation Protective Edge. He claimed that the government is essentially throwing sand in the eyes of the public regarding the situation in the Gaza Strip. "The public is presented either with a long, expensive and low-quality war in terms of results, or with rivers of blood.

"Operation Protective Edge was a 50 day-long war," he continued, saying, "When I was (the chief commander) in charge of Operation Cast Lead, it took us less than half of time, and we didn't have the Iron Dome. We made Hamas fight against soldiers, not citizens."

The number two candidate on Moshe Kahlon's Kulanu list added that Israel's security situation would have enjoyed a state of calm if he had been permitted to finish what he had been tasked with during Operation Cast Lead. "The public needs to choose who will conduct the next round. Will it be the person who knew how to gain a victory in the past and will do the same in the future, or the one who gained a draw?

Former IDF general and Zionist Camp candidate for the defense ministry Amos Yadlin also spoke at the event, and criticized Prime Minister Benjamin Netanyahu's speech to a joint meeting of Congress last week. He stressed that Israel does not face an existential threat, saying: "Netanyahu excels at giving speeches, but fails to act. He said that he would be strong against Hamas – we saw what happened last summer. He released terrorists with blood on their hands who murdered Jews."

Yadlin added that one could not compare the situation today to the Holocaust: "We have a country, an army and the US as an ally. Different methods should be employed to stop Iran."

Referring to Netanyahu's speech once again, he stated that "AIPAC was not happy with the move. It wasn't a smart one. It was done for the benefit of internal politics."

Commenting on Israel's latest military operation in Gaza, Yadlin said: "Netanyahu promised to be strong against Hamas and we saw what happened with them last summer. He wrote a book on the war against terror and against releasing murderers, and released hundreds of those." The Zionist Camp candidate added that "under (Netanyahu's) watch, Iran became a threshold nuclear state."

Defense Minister Moshe Ya'alon (Likud) also appeared at the event, and addressed the criticism from Yadlin and Galant regarding Operation Protective Edge. "Security is a complex issue. It's not a topic for slogans. War is not a child's play. Military force is used as a last resort and when there is no choice," he said. "The use of military force has a price. A defense minister does not only look at things through a rifle sight. One must think before acting.

"Those who only view things through a rifle sight apparently do not understand the consequences of a military operation on the country and the international arena….We conducted the operation with responsibility and proper judgment. The results aren't measured by the extent of destruction, but by how long the truce holds," Ya'alon claimed.