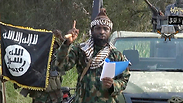 Boko Haram's leader, Abubakar Shekau
Photo: AFP
Nigeria's militant Islamist group Boko Haram has pledged allegiance to Islamic State, which rules a self-declared caliphate in parts of Iraq and Syria, according to a video posted online on Saturday.

"We announce our allegiance to the Caliph ... and will hear and obey in times of difficulty and prosperity," read an English language translation of the video broadcast in Arabic that purported to be from the Nigerian militant group.

The pledge of allegiance was attributed to Boko Haram leader Abubakar Shekau.

The video script identified the Caliph as Ibrahim ibn Awad ibn Ibrahim al-Awad al-Qurashi, who is better known as Abu Bakr al-Baghdadi, the leader of Islamic State and self-proclaimed caliph of the Muslim world.

Baghdadi has already accepted pledges of allegiance from other jihadist groups in the Middle East, Afghanistan, Pakistan and north Africa.

Boko Haram has been waging a six-year military campaign to carve out an Islamic state in northern Nigeria.

On Saturday, four bomb blasts killed at least 50 people in the northeastern Nigerian city of Maiduguri in the worst attacks there since Boko Haram militants tried to seize the town in two major assaults earlier this year.

According to a Daily Beast report last month, American Counterterrorism Center Director Nicholas Rasmussen told a Senate Intelligence Committee hearing that Boko Haram has been increasing communication with other African terrorist groups and IS.

The Daily Beast added that a connection between the two groups might have ramifications in the war authorization bill President Barack Obama has submitted to Congress, which seeks authority for military action against IS "and associated forces" – which could potentially authorize US troops to act against Boko Haram in Africa.

Boko Haram has terrorized Nigeria for years. The Daily Beast said the group has claimed responsibility for the kidnappings of five Westerners and captured Nigerian military outposts in the northeast of Nigeria.

Boko Haram frequently abducts civilians and executes hostages. It also attacks villages and massacres inhabitants. Last year, it kidnapped 300 schoolgirls. In January, international media outlets reported that 2,000 people were killed by the group in a town near the border with Chad.

In February, US intelligence officials said they estimated that the group has about 4,000-6,000 "hardcore" fighters. The following day, Nigeria and its four bordering countries – Chad, Cameroon, Niger, and Benin -- announced plans to deploy an 8,750-strong force by next month to fight Boko Haram.

Mohamed Ibn Chambas, UN Special Representative for West Africa, said in February that Nigeria needed "to demonstrate greater resolve than has been the case so far in this fight against a serious enemy, Boko Haram."

Boko Haram fighters attacked a village in Chad a month ago, the group's first known lethal attack in that country, which killed several people. Attacks had previously been limited to Nigeria.

Reuters contributed to this report.