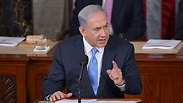 Netanyahu speaking in front of Congress
Photo: AFP
Foreign ministers from several countries involved in the negotiations on Iran's nuclear program have told Israel they will wait for a good agreement rather than rush into a bad deal, Prime Minister Benjamin Netanyahu claimed Sunday.

"After my speech to Congress, we heard from several foreign ministers who don't see a need to reach a deal as soon as possible, and who said they would wait for a good agreement to be reached," Netanyahu said.

"I hope these things will be translated into action," he added.

Last week, Netanyahu warned a joint session of Congress that the burgeoning agreement between the major world powers and Iran currently being drafted is a "bad" deal that will lead to a nuclear Iran.

"If the deal now being negotiated is accepted by Iran, that deal will not prevent Iran from developing nuclear weapons - it will all but guarantee that Iran will get those nuclear weapons - lots of them," he told the two American legislative bodies, to thunderous applause.

The agreement "would not be a farewell to arms," he added, "it would be a farewell to arms control."

US President Barack Obama criticized the speech, saying that Netanyahu, while criticizing the agreement being drafted, had actually offered nothing new as an alternative.

On Sunday, Netanyahu offered his definition of a good agreement with Iran, as an agreement "that ties removing the limitations on Iran's nuclear program with Iran stopping its terror activity across the world, and of course stopping its threats to annihilate Israel."

"A good agreement is one that prolongs Iran's breakout time to obtaining a bomb, should it decide to violate the agreement, in years. Right now, the deal being formulated will allow Iran a breakout time of at least a year. This is an established assessment by intelligence officials and professionals in Israel. These officials conveyed this assessment to the world powers," Netanyahu went on to say.

Elsewhere, Zionist Union leader Tzipi Livni noted that "the true test in the elections would be not in speeches, but in actions. Even though Netanyahu can speak in excellent English, he has a heavy Republican accent."