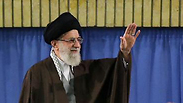 Khamenei meeting with environmental officials and activists at his Tehran home.
TEHRAN - Iran's supreme leader Ayatollah Ali Khamenei made a public appearance Sunday amid rumors about his health, as a relative dismissed the claims as gossip meant to derail ongoing nuclear talks with world powers.

State television aired pictures of the 75-year-old Khamenei addressing a group of environmental officials and activists at his residence in central Tehran. He appeared to look comfortable and healthy in the footage.

Foreign-based news websites in recent days have claimed that Khamenei, who has the final word on all matters in Iran, had been hospitalized in critical condition.

Khamenei has been Iran's top leader since the death in 1989 of the Islamic Republic's founder, Ayatollah Ruhollah Khomeini. In September, Khamenei underwent prostate surgery and spent about a week in the hospital before being released.

Iran is in the middle of critical negotiations with world powers over its contested nuclear program. Khamenei's health is given significant attention because it may affect the process of talks for a final nuclear accord. Khamenei has backed Iran's negotiators publicly in the talks, but also has set his own requirements for what he wants out of any deal.

The supreme leader's office and the government have issued no statement on his health. Iran's former deputy foreign minister Sadeq Kharrazi, whose sister is married to Khamenei's son, said rumors spread about Khamenei's health were released by those seeking to undermine the nuclear talks and weaken Iran's position.

"The intention behind spreading such lies is to demoralize Iran's negotiators and the Iranian people and overshadow Iran's successful policy (in fighting the Islamic State group) in Iraq and Syria," he said in comments widely published Sunday in Iranian newspapers.