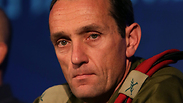 Major-General Herzl Halevi
Photo: Alex Kolomoisky
Israel's top intelligence officer will visit the United States this week, sources with knowledge of the itinerary said; a sign that security cooperation continues despite disputes between the countries' leaders over strategy over Iran.

Major-General Herzl Halevi, commander of Israeli military intelligence, is scheduled to meet US defense officials and attend a pro-Israel fundraising event, the sources said. It is his first US trip since being appointed in September.

Bilateral ties have been strained by Prime Minister Benjamin Netanyahu's speech in the US Congress last week against President Barack Obama's negotiations with Iran over its nuclear program. However, Obama has emphasized his administration's continuing defense assistance to the Israelis.

One source described Halevi's trip as routine and an opportunity for the general to familiarize himself with Washington's counterpart agencies.

Netanyahu made his case against Obama's Iran diplomacy in a speech to Congress that aligned himself with the president's Republican foes. Obama responded in the Oval Office, declaring in a frustrated tone that Netanyahu offered "nothing new."

Video: Reuters

In its response, the Iranian government denounced Netanyahu's 39-minute speech as "boring and repetitive," the state news agency IRNA said.




In an appearance boycotted by dozens of Obama's fellow Democrats, Netanyahu said Iran's leadership was "as radical as ever" and could not be trusted and the deal being worked out by the United States and other world powers would not block Iran's way to a bomb "but paves its way to a bomb."

"It will all but guarantee that Iran will get those nuclear weapons, lots of them," the Israeli leader said. "We'll face a much more dangerous Iran, a Middle East littered with nuclear bombs and a countdown to a potential nuclear nightmare."

His speech, a point-by-point critique of Obama's strategy, drew 26 standing ovations in the Republican-controlled chamber.

Netanyahu both inveighed against the emerging deal and suggested broadening the scope of negotiations to require a change to what he described as Iran's "aggressive" regional posture - an idea swiftly rejected by the Obama administration as de facto "regime change" in Tehran.

But Netanyahu, who said a nuclear-armed Iran would threaten Israel's existence, also avoided any call for new sanctions now or for a total rollback of Iranian nuclear technologies - a signal that Israel might be able to resign itself to less.

Obama said the prime minister offered no "viable alternatives" to the current course of negotiations.

Netanyahu's speech culminated a diplomatic storm triggered by his acceptance in January of a Republican invitation that bypassed the White House. Many Democrats considered it an affront to the president.

Obama refused to meet Netanyahu, saying that doing so just ahead of Israel's March 17 general election would be seen as interference. The president, who has a history of testy encounters with Netanyahu, said he did not watch the televised speech but read the transcript.