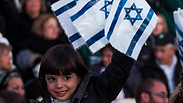 Independence Day celebrations
Photo: Ohad Zwigenberg
Fourteen outstanding Israelis were chosen Sunday to light the ceremonial torches at Israel's official Independence Day ceremony at the Mount Herzl national cemetery in Jerusalem.

The ceremony marking Israel's 67th anniversary will be held with the theme of "groundbreaking Israelis" and will see soldiers with special needs join high-tech developers, women's rights activists, and even a acclaimed Mediterranean song writer to light the ceremonial beacons. The 14 individuals lighting the torches in the ceremony are:

Iron Dome inventor Danny Gold: Gold is one of the mastermind developers behind the Iron Dome missile defense system, which saved countless lives during Israel's last conflict with Hamas, intercepting over 1000 rockets fired at Israel from Gaza.

WAZE developer Ehud Shabtai will light a torch for his role in spearheading the internationally acclaimed application purchased by Google for over $1 billion. He will light his torch together with Or Asulin, a 17-year-old high-school student from Acco, who leads a company geared a developing youth entrepreneurship in high-tech.

Rami Levi, whose chain of supermarkets is credited with revolutionizing food prices in Israel will also light a torch.




Alice Miller, Israel's first female pilot, will also light a torch for taking the IDF to the Supreme Court and clearing the way for female pilots and gender equality in the army.

Lucy Aharish, a Muslim Israeli-Arab journalist, will also take to the stage for being an outspoken voice against racism in Israel and a trailblazer for women and Arab journalists in Israel. Aharish hosts a daily news broadcast on i24 News.

Prof. Marta Weinstock-Rosin from the Hebrew University will light a torch for developing a groundbreaking drug Exelon, used to slow Alzheimer and Parkinson's disease. She will light a torch together with Dr. Gabriel Idan, an inventor who developed a miniature camera which patients can ingest as an alternative to invasive procedures.

Rafi Mehudar, an Israeli inventor and entrepreneur, will light a torch for his groundbreaking irrigation inventions. His technologies have helped Israel and developing nations conserve much needed water.

Avihu Medina, a singer and songwriter who thrust Israel's Mediterranean music scene into the limelight will be honored for his contribution to Israeli music.

Sima Shine holds the highest rank of any women in Israel's intelligence operations, serving as director of the Division of Regional Affairs in the Strategic Affairs Ministry.

Israel is known for exporting its know-how to help other countries facing natural disasters. Gal Lusky exemplifies that ethic and practice, and will light a torch for her foundation Israel Flying Aid, which provides humanitarian relief in crisis situations across the world.

Female Rabbi Malka Piotrkowsky, who paved the way for women's study of Torah and the Talmud, will be honored for her work as a teacher and activist for women's rights in the religious community.

The IDF's special needs soldiers will be honored, and they will be represented by Pvt. Dan Korkowsky, who was diagnosed as being on the autism spectrum, from the IDF's Special Intelligence Unit 9900. He will be joined Sgt. Bat Chen Fumorchok, he leads the unit, called "Ro'im Rahok" (Seeing Far).