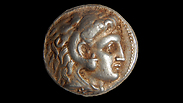 Ancient coins and Jewelry found by Israeli tourists in northern Israel
Photo: IAA
Israeli tourists discovered a rare treasure trove filled with 2,300-year-old coins, and silver and copper objects inside a cave in northern Israel.

"Thanks to the work of honest citizens, we will be able to better understand the history of Israel," said Amir Ganor, director of the Israel Antiquities Authority.

About two weeks ago, members of the Israel Caving Club – Reuven Zachai, his son Chen and friend Lior Hiloni – went out on a preparation trip in a large stalactite cave in northern Israel before the rest of the club members joined in. When inside the cave, 21-year-old Chen noticed a shiny object.

Archeological Research

According to historical sources, wine from Negev or 'Gaza wine', named after port from which it was sent to all corners of Byzantine Empire, was considered to be of very high quality and very expensive.

The three men found two ancient silver coins minted during the reign of Alexander the Great, who conquered of the land of Israel during the Hellenistic period (late fourth century BC). Alongside the coins, the men found several types of silver jewelry including rings, bracelets and earrings which seem to have been hidden in a piece of cloth in the cave 2,300 years ago.

The Israel Antiquities Authority, who prohibited the publication of the location of the cave in fear of looting, assessed that there is the possibility that the objects were buried in the cave after the death of Alexander the Great when the country was at war with his successors.

The IAA researchers said the finding was "one of the most important discoveries in the north in the last years" and said that the cave held proof that there were humans who settled in the cave for extended periods of time.

"Object found in the cave were found to date back to the Chalcolithic period 6,000 years ago and until the Hellenestic period from 2,300 years ago," the IAA said. "The three cave club members displayed exemplary citizenship and this is the second time in the last month where citizens reported significant archealogical findings," said Ganor.