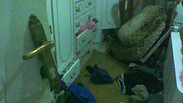 Family home of Hamas suspect after arrest
The Palestinian Authority's security forces arrested over 100 Hamas members in the past two weeks, a senior Palestinian defense official told Ynet.

The operations reached a climax on Sunday night when – in an unusual step – the forces arrested 40 Hamas members, including released detainees, academics, and students in a coordinated effort conducted in multiple cities across the West Bank.

The extensive arrests are being carried out at a time even as Israel continued to hold the PA's tax funds – for the third consecutive month. The funding freeze is a punitive measure first initiated after the Palestinian government signed the Rome Statute and applied for membership in the International Criminal Court at The Hague.

The tax funds are used by the Palestinian Authority to pay salaries for its employees, both civil and military.

The Palestinian official said the wave of arrests – 6 to 7 Hamas members per night – was undertaken in a bid to clampdown on the Gaza-based terror group after warning lights began flashing in Ramallah. He added that the step was also a punitive measure against Hamas after it arrested a senior Fatah member in Gaza.

The families of the suspects claimed the arrests were unusually aggressive and included extensive searches of the homes. They threatened to hold protests this morning in front of the security forces' headquarters in the West Bank.

Hamas, for its part, has been trying to steamroll the Palestinian Authority with a wave of attack ads across the terror group's media outlets. Hamas blamed the PA for cooperating with Israel while suggesting its forces were involved in the arrests.

"We lay the full burden of responsibility for the wave of arrests and the continuing restrictions on Hamas members on Mahmoud Abbas and the Palestinian Prime Minister Rami Hamdallah, said the group's foreign spokesperson, Hossam Badran, on Monday morning.

"This wave of arrests proves that the security coordination (with Israel) continues at the highest level and there is no weight behind the PLO's Central Council decision to end the cooperation," he added.

The Hamas statement comes in the wake of PLO deliberations last week, which ended with an agreement to halt the security coordination with Israel. The decision, however, is not enforceable and such a measure could only be implemented by Abbas.