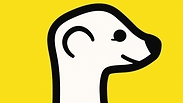 Meerkat had 15,000 users in three days.
Meerkat
Meet Meerkat, the new Israeli app that has achieved almost overnight success, has taken Twitter by storm, and has earned widespread coverage in the media and on websites around the globe.
Meerkat allows Twitter users to stream video of themselves or their surroundings to their followers with just the touch of a button. How does it work? You download the app to your iPhone and begin filming a video clip. At the same time, your Twitter account will automatically post a Tweet with a special link.
Your followers who click on the link will then be able to view a live stream of what you are filming at that exact moment. Everyone can watch your live broadcast, without having to download the app. When you finish filming, the live stream ends too.
It all kicked off last week: The app went online and immediately attracted widespread interest among users of the ProductHunt website, a platform for new applications and technological services. Within three days, Meerkat had 15,000 users that had streamed 8,000 live videos. Twitter guru and actor Ashton Kutcher was among the first users too.
Meerkat soon won widespread coverage, with reports about the app appearing in leading international publications and on websites such as the Wall Street Journal, The Guardian, Business Insider, Huffington Post and others. Some even speculated that Twitter would be interested in purchasing Meerkat in light of the natural connection between the two.
Meerkat was developed by Israeli tech firm Life on Air, co-founded by CEO Ben Rubin, 27, VP Product Uri Haramati, 35, and CTO Itai Danino, 29. The company has 11 employees, some based in Tel Aviv and others in San Francisco. To date, Life on Air has raised some $4.2 million in venture capital, with its investors including Israeli fund Aleph. Meerkat started out as a side-project developed by the company in recent weeks.
Life on Air's prior focus, Air, while similar to Meerkat, is an invite-only app that allows users to broadcast videos to a close circle of friends. And Air is the successor to yet another live-streaming app by Life on Air called Yevvo, which went similarly viral in 2013 until interest faded and the app was dropped.
Related articles:
Meerkat's sudden success is surprising because earlier apps that focused on live broadcasts failed to take off; and one of the reasons for the new app's success appears to be the fact that you don't have to download it in order to gain access to the live stream – it all happens on Twitter and is thus exposed to large numbers of users.
"Meerkat is dead-simple to use and tightly integrated with Twitter," explains company employee Ryan Cooley in an email interview from San Francisco. "This lowers all the biggest barriers to entry that you see with other live video apps. Either the experience is too complicated, or they are so focused on utility, and that hinders the social, participatory part of the experience.
"There are plenty of live video technologies that put out amazing products that will stream something happening in beautiful quality from the most remote place on Earth; however our goal is to bring live video, as a medium, to everyone in the most consumable and engaging way."
Cooley admits the company, too, was surprised by the sudden buzz.
"We weren't expecting Meerkat to take off quite as much as it has. We built it to be inherently viral through the Twitter integration and making it really easy for anyone to use in the app or by just coming into a video from Twitter. However, the results we're already seeing are really beyond our expectations on Twitter and within Meerkat itself," he says.
And what about a few examples of interesting live streams he has seen recently?
"We're seeing a lot of great things happen on Meerkat, from the sneak peek of Product Hunt's iOS version to late night impromptu off-Broadway style singing," Cooley says.
"The interview with US Senator John Thune blew my mind. When have we ever had the opportunity to get a politician's reaction to such a major event like Bibi's address, in as candid a way, and as fast?
"I don't believe we have, with the exception of traditional live news, which, in the eyes of the politician, is addressed totally differently. Further, people were interacting with the senator and getting their questions on net neutrality answered live."