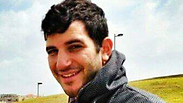 Tal Shamia, one of many expat Israelis returning to vote
With elections just around the corner, Israeli expats have begun making a pilgrimage to their home country to exert their right to vote. Ynet spoke to several of these Israeli citizens living abroad, many of whom plan to return to live in Israel one day.

"This is the first time I'm arriving to vote in elections since I moved to Berlin," said Shaked Shafir, 29, who has lived in Germany for eight years and works in information management.



"There are lots of Israelis in Berlin who are returning to vote, because Israelis who chose to live somewhere else, whether for a limited or unlimited time, also have an affinity and a connection to Israel. What happens here is important to them, especially when they see the direction the country is going in, which is not good."

Tal Shamia, 31, has lived in Germany for about a year and works as a biologist. "I love Israel. It's important to me that it goes in the right direction, and I always voted because it was important to me." He said he intends to return to live in Israel. "I don't want to sit here and hear about some event or war, and feel that I didn't do the little that I could."

Nurit Gazit has lived in Sydney, Australia for several months as part of relocation for her husband's job. The couple plans to return to Israel when the relocation ends. "Voting is important to me and I feel that it's every citizen's duty."

Adam Fulman, 25, is a medical student in Italy. "I debated for a while whether to come, but two days ago I decided it was a critical point and I realized it was important for me to come because it's an opportunity for change," he said.

Fulman has made sure to visit Israel twice a year since he went to Italy, and said he hopes to move back to Israel when he finishes his studies in three years. "Of course I want to return to Israel, and I love the country, but we'll see what happens there in three or fours years. I haven't settled down finally in Italy. My heart is in Israel."

Yisrael, 32, is a haredi man living in New York City for work, and said he hopes to return to Israel in a year or two. "It's important that there is haredi representation to keep the religious values in Israel during this election campaign," he said.

Tomer Tsabari, 33, has lived in Lima, Peru for work for three years.

"It's more important to me than ever to vote this time because we are standing at an existential crossroad," he said. The only issue that interests me is that there is still a Jewish home to return to when I come back from overseas."

Amit Yulzari, 33, has lived in London for two years, where he works as a campaign manager. He said he watched Ynet's live feed of the recent political rally in Rabin Square and regretted not being present. "It was obvious to me that I couldn't stay abroad when such critical elections are being held."

"The results of the previous elections significantly contributed to my decision to leave." He disagreed with people who claimed it was inappropriate for those living abroad to vote.

"In our age, people travel to work in other places and the borders are relatively open, but they still maintain a close relationship with Israel. I still pay for social security and the rest of my dues, still see myself as part of Israel, and am interested in returning."