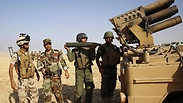 Kurdish fighters
Photo: Reuters
About 95 captives, including Kurdish fighters, escaped from an Islamic State-run prison in northern Syria but most have been recaptured, a monitoring group said on Tuesday.

The jailbreak took place in the town of al-Bab, 30 km (20 miles) south of the Turkish frontier, the British-based Syrian Observatory for Human Rights said.

Al Qaeda offshoot Islamic State controls tracts of territory across northern Syria and runs its own prisons, courts and other facilities in what it describes as an Islamic caliphate extending into Iraq.

The escapees included Syrian civilians, about 30 Kurdish fighters, and members of Islamic battalions opposed to the more hardline Islamic State, the Observatory said.

Kurdish fighters backed by US-led air strikes have been trying to drive back Islamic State across northern Syria.

Islamic State has put the town on high alert and has been using loudspeakers to tell citizens to capture the escapees, the Observatory said, citing people on the ground. About two thirds have since been caught.

"They have set up new checkpoints and have been searching houses," the Observatory's head Rami Abdulrahman said.

Islamic State was still in control of the town, which lies northeast of the city of Aleppo.

"But it shows some weakness when a big number of prisoners escapes," he said.

Islamic State combatants fought each other over the weekend in al-Bab when several of its members broke out of another jail in the town and tried to head for the Turkish border. Since that breakout, Islamic State had moved people to the new, smaller prison which was the site of the latest escape.

The group which escaped over the weekend included mainly European fighters and was stopped by other Islamic State members in clashes that killed at least nine, the Observatory said.