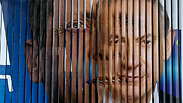 Herzog slams Netanyahu as divisive, says he is only alternative.
Photo: Reuters
Seven days ahead of an election which will decide if current Prime Minister Benjamin Netanyahu will keep his seat, his main contender,Zionist Union's Isaac Herzog, asserts that he is the only alternative to run the country.

"I think the citizens of this country understand that there is only one alternative. Whoever wants to replace Netanyahu, whoever wants to put an end to Bibi's reign, whoever wants to change six years of nothing, must come with me," Herzog tells Ynet.

When asked if Bayit Yehudi leader Naftali Bennett would be a potential partner in forming a coalition, Herzog says he does not think Bennett would be willing to play a part in restarting the negotiations with the Palestinians - a goal Herzog set for himself for his first 100 days in office.

Among his supporters, Bennett is applauded for his rigid stance against the peace process, especially among those who live in Israeli settlements in the West Bank.

"Bennett wants to immediately annex (the West Bank). Bennett wants to annex 100,000 Palestinians overnight," says Herzog.

When asked about the authenticity of his unity deal with Tzipi Livni, according to which to the two politicians would rotate time as prime minister, Herzog says that "the partnership between myself and Livni is stronger than ever. I really respect her. She is strong and works wonderfully and I am a person who stands by my decisions and obligations. Period."

When asked about recent polls that show that Meretz, a Zionist Union ally, might not cross the Knesset threshold, Herzog says, "I really respect Meretz and think it has room in the union. I focus on explaining to the public that whoever votes for the center parties is voting Bibi. Meretz is saying ahead of time that it supports (me)."

Even if the Zionist Union receives the most votes, the only way Herzog will be able to sit as prime minister is if he is able to form a coalition – a challenge some hesitate the Zionist Union will find hard to overcome as there is an abundance of rightwing Likud-friendly factions.

However, Herzog says he will be able to meet the challenge. "I suggest people not get wound up over what everyone is saying," he says, adding that everyone knows he is the only one who can unite the various political factions.

"The beauty of our nation is 'each to his own.' The beauty of our nation is this mosaic. I plan to unite and Netanyahu plans to divide. Netanyahu instigates and incites," says Herzog.

"I think part of the issue is this whole culture of rejection, exclusion and arrogance. (The Zionist Union) is not there. And the Zionist Union led by me will do everything to connect the various groups in the nation in order to give hope to the young generation who is tired of the games and slander and dirty insults, that wants practical programs," Herzog says.