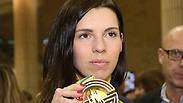 The bronze is like gold for me, after all the injuries I suffered
Photo: Oren Aharoni
Triple jumper Hanna Knyazyeva-Minenko was wrapped in love at Ben-Gurion International Airport on Monday, after returning to Israel with her bronze medal from the recent European Indoor Athletics Championship in Prague.
Knyazyeva-Minenko, who captured her first-ever medal in a major competition, was greeted by applause by those in attendance and received flower bouquets from the heads of the Israeli Athletic Association.
"I am happy to return to Israel," Knyazyeva-Minenko said after landing. "I feel very good in Israel and love the country and the people. It feels natural for me to represent Israel.
"The bronze is like gold for me, after all the injuries I suffered and the difficulties on the way," continued Knyazyeva-Minenko, whose achievement makes her the first woman to win a medal for Israel at a European championship. "I wasn't very happy with the fact that my first jump was a good one and I was in the lead because it's hard to compete at these levels under pressure like that."
Speaking shortly afterwards at a press conference, the athlete added: "My best jump (14.49 meters) would have won me the gold medal at the last World Championship. I know that the medal means a lot to many people in the country, and I'll continue to progress gradually."
Following her recovery from injury and good performances of late, Knyazyeva-Minenko is expected to return to the prestigious Diamond League competition series she was forced to miss last year.
In the year prior to her injury, 2013, Knyazyeva-Minenko ranked fourth in the women's triple jump in the Diamond League series.
Born in Ukraine, Knyazyeva-Minenko followed her partner, decathlete Anatoly Minenko, to Israel. At the 2012 London Olympics, competing under the Ukrainian flag, Knyazyeva-Minenko placed fourth. She will be 26 for the Rio de Janeiro Summer Olympics.