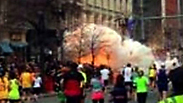 Explosion during Boston Marathon attack.
Photo: Associated Press
The Boston Marathon bombing trial on Tuesday is due to resume with defense lawyers cross-examining an FBI agent who a day earlier discussed two Twitter accounts that defendant Dzhokhar Tsarnaev used in the months leading up to the attack.

Three people died and more than 260 were injured when two pressure-cooker bombs filled with shrapnel exploded near the finish line of the Boston Marathon in 2013.

Less than 30 minutes later, Tsarnaev calmly walked into a Whole Foods store in Cambridge and bought a half-gallon of milk. The jury was shown store surveillance video of him making the purchase.

Jurors also watched a timeline video compiled by the FBI using surveillance video from stores and restaurants near the marathon finish line. The video, which shows both brothers' movements around the time of the bombings, focuses on Dzhokhar and shows him carrying a backpack up until he gets to the front of the a restaurant, when he is shown dropping the bag from his shoulder.

One frame then shows the backpack at his feet. The backpack is in a crowd of people and right near children standing on a metal barrier, including 8-year-old Martin Richard, who was killed, and his younger sister, Jane, who lost a leg in the blast.

As the first bomb explodes, the video shows everyone in the crowd turning toward the blast. Tsarnaev does not look in that direction and instead begins to walk in the other direction.

Seconds later, the second bomb explodes, and Tsarnaev, who prosecutors say detonated the second bomb, is seen running with a crowd of people who are also running. People are also shown jumping over metal barriers as smoke wafts over the scene.

A woman testifying from a wheelchair Monday in the Boston Marathon bombing trial recalled shielding her husband from the sight of his mangled leg, being pushed to the ground by a bystander frantically trying to extinguish the flames on her body and coming to grips with becoming a double amputee.

New video of Boston Marathon bomber (צילום: רויטרס)

Jessica Kensky's account came during the third day of testimony in the federal death penalty trial of bomber Dzhokhar Tsarnaev, whose own lawyers have acknowledged his involvement in the 2013 attack but insist he was influenced by his older brother, Tamerlan, who was killed during a getaway attempt days after the bombings.

Kensky said she and her husband, Patrick Downes, each lost a left leg in the 2013 attack. After more than 18 months of surgeries and consultations with doctors around the country, she came to the painful conclusion that her right leg would have to be amputated, too, she said.

"I did not want to become a bilateral amputee," Kensky said. "I wanted to paint my toenails, I wanted to put my feet in the sand, and I wanted to do all these things. To lose the second leg was a gut-wrenching, devastating decision."

Prosecutors showed jurors tweets from what they identified as two accounts of Dzhokhar Tsarnaev.

"If you have the knowledge and the inspiration all that's left is to take action," he tweeted April 7, a little over a week before the bombings.

"I want the highest levels of Jannah," he tweeted March 10, referring to the Islamic concept of paradise. "I want to be able to see allah every single day for that is the best of pleasures."

In January, three months before the bombings, he tweeted: "I don't argue with folks who say islam is terrorism it's not worth a thing, let an idiot remain an idiot."

Prosecutors say the Tsarnaevs carried out the bombing to retaliate against the U.S. for wars in Iraq and Afghanistan. During opening statements, a prosecutor cited a hand-scrawled note Dzhokhar Tsarnaev left on the walls of the boat he was captured hiding in and said he believed "he was a solider in a holy war against Americans" and had "taken a step toward reaching paradise."

Also testifying Monday was a woman whose close friend, 23-year-old Lingzi Lu, died in the second bomb blast.

Danling Zhou said Lu grabbed her arm after the first bomb exploded, looking panicked, and said "What happened?" and "What should we do?"

Before Zhou could answer her, the second bomb exploded.

Both women grew up in China and were graduate students at Boston University.

Reuters and the Associated Press contributed to this report.