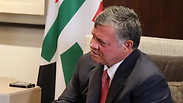 King Abdullah II of Jordan
Photo: EPA
King Abdullah II of Jordan warned Tuesday that an Israeli-Palestinian peace deal was essential for combating Islamic extremists, saying the conflict served as a rallying cry for jihadis.

Abdullah told the European Parliament that the battle against ISIS in Iraq and Syria was "first and foremost" a fight for Muslim nations to carry out.

Jordan has stepped up its role in the US-led coalition against ISIS after the group burned to death a captured Jordanian military pilot in a grisly video released last month.

But Abdullah said the root problem was the world's failure to "defend Palestinian rights."

"This failure sends a dangerous message," he said.

"And it has given the extremists a powerful rallying cry. They exploit the injustices and the lingering conflict, to build legitimacy and recruit foreign fighters across Europe and the world."

He added: "How can we fight the ideological battle, if we do not chart the way forward towards Palestinian-Israeli peace?"

As a country that has made peace with Israel, Jordan has played a mediating role in the peace process.

Around 20,000 foreign fighters are believed to have left their homelands to join extremist groups in the past few years - including an estimated 4,000 since 2012 from western Europe.

Abdullah however said that Muslim countries had to lead the fight against ISIS and other extremists.

"This is a fight that has to be carried out by Muslim nations first and foremost. A fight within Islam," he said.

Introducing the king to European lawmakers, Parliament President Martin Schulz offered his sympathies over the murder of the pilot.

"It's hard to imagine people could commit such gruesome acts," he said.

The Jordanian King also urged Europeans to fight hostility toward Islam that he said was fuelling extremism among Muslims, including those drawn from Europe to fight in the Middle East.

Addressing the European Parliament in Strasbourg, Abdullah praised Europe's "unbeatable courage" in responding to attacks such as those in Paris in January and likened Islamic State to Nazism – "an expansionist ideology based on hatred".

But in calling for cooperation to combat Islamist violence, the king, who attended commemorations for the slain French satirists of Charlie Hebdo but criticized the paper's use of cartoons of the Prophet Mohmmad, said that European governments must promote "mutual respect" and an "inclusive society".

"Insulting other peoples and their faiths and their convictions, this is no way forward," he told a chamber that includes dozens of far-right members critical of Muslim immigration.

"Europe is an important partner in this effort, especially in helping to stop the global rise in Islamophobia."

Reuters contributed to this report.