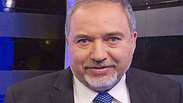 FM Lieberman
Photo: Ido Erez
After the Palestinian Authority warned on Tuesday it would petition the International Criminal Court over Foreign Minister Avigdor Lieberman's remarks, the Yisrael Beytenu chairman said "they will receive an answer from me when I am defense minister."

On his Facebook page, the senior minister wrote that he had seen the threat was issued because he said Israel "must operate with a firm hand against our enemies and those who act against the State of Israel."

The social media post followed an official statement by the Palestinian foreign ministry condemning his rhetoric and comparing his sayings to the ISIS' decapitation policy. The statement also said the remarks would be included in the topics on which the Palestinians will petition the International Criminal Court in The Hague.

Ynet was told that the Palestinian foreign ministry's statement was badly received by various officials in the PA who deal with the issue. Those sources clarified that the ministry's statement was only intended for internal Palestinian consumption, explaining why the message was written only in Arabic and not in English.

The sources added that a body does not petition the ICC over a specific statement but over egregious cases like crimes against humanity.

Elior Levy contributed to this report.