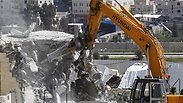 The structures demolished were constructions near Arab neighbourhood Issawiya
Archive photo: Reuters
Israeli authorities on Tuesday demolished an EU-funded shelter in Arab east Jerusalem, the European Union said, denouncing the move.

"We condemn today's demolition of temporary shelters funded by the European Union... as part of its response to the needs of the affected communities," an EU statement said.

EU funds have helped to pay for some 200 temporary buildings used as shelters in villages inhabited by Bedouin communities in the West Bank, just outside Arab east Jerusalem.

The structures demolished on Tuesday were small metal constructions put up on the outskirts of Arab neighborhood Issawiya, an AFP correspondent said.

The area was empty of residents following the demolition by bulldozer.

Jerusalem's municipality was not immediately available for comment.

A spokesman for Regavim, a rightwing lobby group, said the move was unusual.

"This doesn't happen every day, and it certainly doesn't happen to EU buildings," Avi Hyman told AFP.

Israeli authorities regularly demolish structures inhabited by the Bedouin in the West Bank, and have tried to move communities into housing planned by the state.

Activists say Israel is deliberately displacing the Bedouin in order to build settlements in the area of the West Bank just outside east Jerusalem.

That effective annexation of a corridor running through the middle of the West Bank would make the creation of a contiguous Palestinian state impossible.