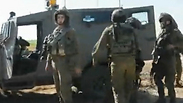 IDF officers
Photo: Shay Shmueli
An IDF officer was lightly wounded on the Golan Heights on Tuesday by gunfire emanating from Syria. The officer, who sustained a light wound to his hand, continued to conduct the operation and was not evacuated to receive medical care. The officer was part of an infantry force on routine patrol duty in the area of kibbutz El-Rum.

The IDF initially believed the gunfire was intentional but – as of now – has yet to retaliate towards the source of the attack.

Despite the gunfire, the Israeli military did not change its directives to civilians in the area. The incident marked the first security breach on the northern front since the fatal attack in the Arab village of Ghajar in January.

In that incident, two soldiers were killed and several were wounded along Israel's border with Lebanon after a Hezbollah anti-tank attack on an IDF convoy. The casualties were, Captain Yohai Kalangel, 25, and Sergeant Dor Nini, 20, who were killed by the first anti-tank missile on the convoy.

Meanwhile, a correspondent of Al Manar, a network affiliated with Hezbollah, claimed that an IDF force fired over his team while they were filming an item on Israeli violations in the Shebaa Farms on Tuesday.

Ynet was told shots were fired in the air towards a Lebanese force moving too close to the Blue Line. There was no confirmation of an incident in which IDF soldiers crossed the demarcation.