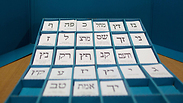 With less than a week to go before elections, thousands of Israelis have yet to choose which party will receive their vote. According to pollster Dr. Mina Tzemach, as many as 14 percent of Israelis said early this week that they were still deliberating who to vote for.

However, she said that because many of these undecided voters are leaning towards a preferred party, only 7.2 percent of voters continue to waver.

According to poll data, more women than men are still undecided. The most recent results show that 5.8 percent of men are undecided, compared to 8.5 percent of women.

President Reuven Rivlin hosted around 100 citizens who said they did not intend to vote at his residence on Tuesday night, in a bid to convince them to go out to the polls come March 17.

Tzemach, who addressed the gathered reluctant citizens, said that while many who don't vote "feel they are getting back at parties who have not contributed or not acted, in Israel, in 1996, there were less than 26,000 votes between the winner and the loser, and 400,000 people who didn't vote at all."

President Rivlin said, "I did not invite you here today to preach to you, and certainly not to ask for your vote. I have invited you in order to listen to you, to hear you, but also to share with you the concern that too many of our citizens are led by apathy and despair. From what I have heard and indeed read from you, I understand that today, there are many citizens who feel a lack of faith in the political system.

"But friends, I must ask you sincerely. Whether you, who understand the problems of the current political reality, believe that not voting could lead to a better or worse situation? Would there be more or less corruption? Would there be more extremism or more moderation? Would the political system be more or less stable? How would Israeli society look if we all stopped voting? Would there be greater vision and hope? Or less?"

Na'ava Itali, 38, a mother of five from Moshav Tarom, told the president, "There's a sense that this election is dealing with marginal issues and corruption, and is not attempting to offer answers – I have not heard one candidate offer hope for change."

Yakir Cohen, 25, a student at Sapir College who lives in Moshav Zimrat, less than ten kilometers from the Gaza Strip, said, "The decision not to go to the polling station is a result of a crisis of confidence I have had with the government for a number of years. I live near the Gaza Strip, and since Operation Protective Edge, there is an hour-glass counting down to the next round of violence. There is no security, no economic or political prospects. There is no change, on the right, left or in the center. It doesn't matter for whom I vote, my vote will change no one. We will get up on the morning of March 18 and the country will continue to be run exactly as it was before."

Ronit Vardi, 26, from Ashdod, explained that she felt the elected officials belittled her, and did not fulfill their duties.

In his closing remarks, the president told the citizens that even if there were those who were not convinced to vote, he hoped he at least made them reflect on their decision, and think it over before the elections. "After all," he said, "a lot can happen in a week."

Telem Yahav contributed to this report.