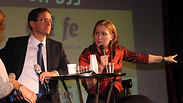 Isaac Herzog and Tzipi Livni
Photo: Motti Kimchi
An overwhelming majority of Israeli Jews do not believe that a change in leadership will have an effect on the peace process, according to a poll released Tuesday by the Israel Democracy Institute.

There is less than a week to go before the leading parties – Benjamin Netanyahu's Likud and Isaac Herzog and Tzipi Livni's Zionist Union – face off in general elections, and the poll examines what voters expect from a possible Zionist Union-led government.

The percentage of Israeli Jews who believe that there is no solution to the dispute, and that therefore negotiations will stall regardless of which party forms the next government, stands at 64. In comparison, 32 percent said they disagreed with the statement that there's no solution to the Israeli-Palestinian conflict and that as a result, a change in leadership did not matter.

Israeli Arab respondents were more split on the issue, with 32 percent agreeing that it does not matter which party forms the government, and 31 percent disagreeing.

Nevertheless, 60 percent of Israeli Jews support peace negotiations with the Palestinians, while 31 percent oppose them. As for Israeli Arabs, 68 percent support restarting negotiations, and only 15.2 percent oppose it.

Most Israeli Jews (64 percent), and 35 percent of Israeli Arabs, believe the Palestinian leadership will not show greater flexibility and readiness for concessions if a government headed by Herzog and Livni is formed after elections. In comparison, only 30 percent of Israeli Jews and 22 percent of Israeli Arabs believe the Palestinian leadership will show greater flexibility and readiness for concessions to a Herzog and Livni-led government.

The poll also asked whether respondents thought a Herzog-Livni government would lead to better ties with the United States' government. Media outlets have frequently reported on tensions between the Netanyahu government and the Obama administration, particularly in the wake of the recent incident in which House Speaker John Boehner invited the prime minister to speak to a joint session of Congress without prior approval by the White House.

More Israeli Jews than Israeli Arabs – 49 percent to 20 - think a Herzog-Livni government will have a better relationship with Washington. A third of Israeli Jews and 22 percent of Israeli Arabs think the relationship will stay the same. Seven percent of Israeli Jews and 14 percent of Israeli Arabs believe the relationship will actually be worse under a Herzog-Livni government than it is now. A mere three percent of Israeli Jews and 11 percent of Israeli Arabs are of the opinion that the relationship would depend on the policy chosen by a Herzog-Livni government.

The race is a close one. Recent polls released by Channel 2 News showed Herzog and Livni's Zionist Union with a slight lead over Likud. A poll from February 24 showed the Zionist Union with 24 seats to Likud's 22, while in a March 4 poll the gap had narrowed to just one seat. A poll released on Tuesday, however, showed the Zionist Union with a 3-seat lead over Likud.

The election campaign has largely focused on two issues, with the peace process being mostly relegated to the sidelines. Netanyahu has emphasized the threat from Iran and regional Islamist groups, and the center-left opposition has been criticizing his perceived failures on social and economic policy.

In a rare TV debate, eight party leaders from across the political spectrum recently held forth for 90 minutes in a noisy, argumentative discussion of Israeli policy.

While social issues and the economy were grappled over at length, the conflict with the Palestinians and efforts to forge a two-state solution to the crisis drew little new comment or insight.

The word "peace" was mentioned five times, three of those by the only Arab candidate taking part, while Naftali Bennett, the leader of the ultra-nationalist Bayit Yehudi, declared he would never let the Palestinians have their own state.

"The Palestinian issue, as much as it is crucial, is not perceived as existential, which is the case with Iran," said Reuven Hazan, a professor of political science at Hebrew University and a specialist on the Middle East.

"And it is not perceived as manageable over the next three years, which something like the economy is."

Reuters contributed to this report.