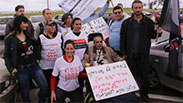 Social activists in Tel Aviv, before heading out on march
Photo: Motti Kimchi
Dozens of activists from various organizations set out on a protest march from Tel Aviv to Jerusalem on Thursday, aiming to put a spotlight on the hardships experienced by civilians. They will arrive at the capital on the March 17 election day, and hope that many along the way will join their struggle.
The protestors plan to arrive at President Reuven Rivlin's residence in Jerusalem on Tuesday, where they will present him with pamphlets detailing problems in various fields.
The protesters, including medical interns, childcare activists, neighborhood representatives, public housing activists, members of the Coalition for Direct Employment, representatives of the handicapped community and the National Student Council, promise they will do everything in their power to change the agenda before the elections and lead to the establishment of a more socially-oriented government.
Carmel Elmakais-Amos, a representative of "Lo Nehmadim" (Not Nice) group, said on Thursday: "After these awful elections are over, we will demand of those who form the government to make a change. Our group's struggle is about public housing, about reducing poverty gaps and improving the condition of neighborhoods. I believe that people will join us along the way and that our protest will grow and expand."
Shelly Dvir, an education activist, said that she and her friends are tired of slogans: "We need significant budgets, and demand that this issue be made a top priority for all parties entering the coalition, and that they vow to fight in order to significantly reduce educational gaps.
Dvir added: "We are talking about reducing the number of children in classrooms, adding another staff person to every kindergarten, giving kindergarten teaching assistants professional training, adapting structures to the needs of children, and adjusting the school vacation schedule of students with their parents' vacation schedule."
Dr. Harel Buchinski, an internal medicine specialist who represents the doctors, said: "We are protesting against the state of the public health system. As people who work inside the system and carry the patients on their shoulders, our difficulties have become unbearable, and include overcrowded rooms and wards, and patients who do not receive proper medical treatment – which leads to morbidity that can be prevented."
Buchinski added: "We urge the president to use his powers to influence the priorities of the government, because politicians must take responsibility and start taking care of the citizens of Israel."