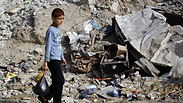 Officials from Israel and Qatar met this week to discuss the reconstruction of the Gaza Strip, according to a knowledgeable Palestinian source.

Coordinator of Government Activities in the Territories Yoav Mordechai held a meeting with a Qatari official visiting Gaza. Qatar announced on Tuesday that it had begun a project to rebuild 1,000 homes as part of a $1 billion aid pledge.

Israel and Qatar do not officially have diplomatic relations. Criticism of Qatar in Israel increased at the end of Operation Protective Edge because of its support for Hamas and in light of the fact that it hosts the organization's political leadership and its leader, Khaled Mashal.

Mohammed al-Amadi, head of the Qatari Committee to Rebuild Gaza, arrived in Gaza on Monday. He traveled through Israel from the West Bank and entered Gaza at Erez Crossing, the only place visitors can enter or exit since Egypt closed Rafah Crossing a few months ago with rare exceptions.

Al-Amadi visited Qatari project sites in Gaza during his visit. His meeting with Mordechai occurred before his arrival in the strip, according to the Palestinian source. An agreement was reportedly reached to accelerate the delivery of construction materials for rebuilding Gaza through Kerem Shalom border crossing.

The Qatari emissary held a press conference in Gaza a few hours after the meeting, where he announced the new Qatari-funded rebuilding project.

Meanwhile, Israel has approved for the first time in years the delivery in Gaza of white center, which is much stronger than ordinary cement.

At a donors' conference in Cairo in October, some two months after the latest conflict ended in an Egyptian-brokered ceasefire, Qatar said it would provide $1 billion in reconstruction assistance for Gaza.

In all, some $5.4 billion was pledged at the meeting, but little of that has reached the Gaza Strip.

UN officials have said internal Palestinian divisions have blocked oversight by the Western-backed Palestinian Authority, Hamas's rival, of the import of building materials.

Reuters contributed to this report.