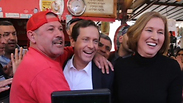 Herzog and Livni with merchant at Carmel Market.
Photo: Motti Kimchi
A few days after Prime Minister Benjamin Netanyahu took his campaign to the Carmel Market in Tel Aviv, Zionist Union leader Isaac Herzog and running mate Tzipi Livni followed suit on Thursday and posed for pictures with various vendors.

Unlike Netanyahu's visit, the media was allowed to follow the two Zionist Union politicians navigating their way through the crowded market and the various stands selling everything from fruits and vegetables to cheeses and meat.

Herzog spoke to the various stand merchants, and he and Livni sat down to eat lunch at a local restaurant inside the market.

"I tell everybody to work hard and not give up any vote," said Herzog.

One stand-owner came up to Herzog and said: "I voted for the Likud for 30 years, but this time I, and everyone also I know in the market, says they will vote for you."

Herzog responded: "We must continue to work hard. We are traveling through out all of Israel, meeting thousands of people a day. In order to give them hope and change the direction of Israel, you must convince everyone possible."

Some of the merchants were surprised to find Herzog among the crowds at the market, he said to them: "The Carmel Market is an amazing symbol of the Israeli mosaic. There are people from every part all around us, and everyone is looking for a change."