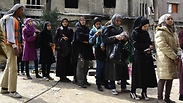 Refugees in SyrianYarmouk camp line up to recieve UN aid.
Photo: Reuters
The director of the UN agency that supports Palestinians appealed on Thursday for greater access to the besieged Yarmouk refugee camp in the Syrian capital, where up to 18,000 people continue to live in desperate need of food and medicine.

Yarmouk, which has been under a government-imposed blockade since mid-2013, grabbed international attention more than a year ago after images emerged of emaciated children and gaunt adults wasting away under the toll of the siege. The UN has said more than 100 people have died there from starvation and illnesses exacerbated by hunger or lack of medical aid.

The United Nations Relief and Works Agency, or UNRWA, has delivered intermittent aid shipments to Yarmouk, although there are frequently long stretches when nothing gets in. And even when food and medicine arrive, it's not nearly enough to meet the needs of those trapped inside.

UNRWA Commissioner-General Pierre Krahenbuhl, who visited Yarmouk this week, called on armed opposition groups that hold sway inside the camp to allow civilians to reach aid distribution points safely. He also urged the Syrian government to improve access routes and allow regular and unhindered aid distributions.

"In 2014 we were able to distribute on 131 days out of 365 in Yarmouk - clearly not enough," he told The Associated Press in an interview at UNRWA's Beirut offices. "We want these distributions to be regular occurrences without limits in terms of the number of days and, in particular, without limits in terms of the number of people that we can distribute to."

UNRWA was unable to distribute aid in Yarmouk for three months until March 5, when it delivered food parcels and jars of jam to 339 families. So far this year, the UN agency has been able to provide aid and medical treatment in Yarmouk for only five days.

Following his visit to the camp this week, Krahenbuhl described Yarmouk as a "devastated landscape." But he said physical hardship is only part of the residents' suffering.

"The biggest problem for them - in addition to all of their immediate survival needs and security needs and humanitarian needs - is the lack of prospects," he said. "I think you can endure things when you feel that six months from now things may be getting better, or the political dynamic may be improved, or that something is happening to resolve the conflict. Nobody sees that of course."